Check out our 'Offerings' interview with Rowan Zorilla. We spoke to Rowan about a skate video, album, book, and film that he selected for us. We also took some time to speak about his second signature shoe for Vans, which is arriving next week, and more…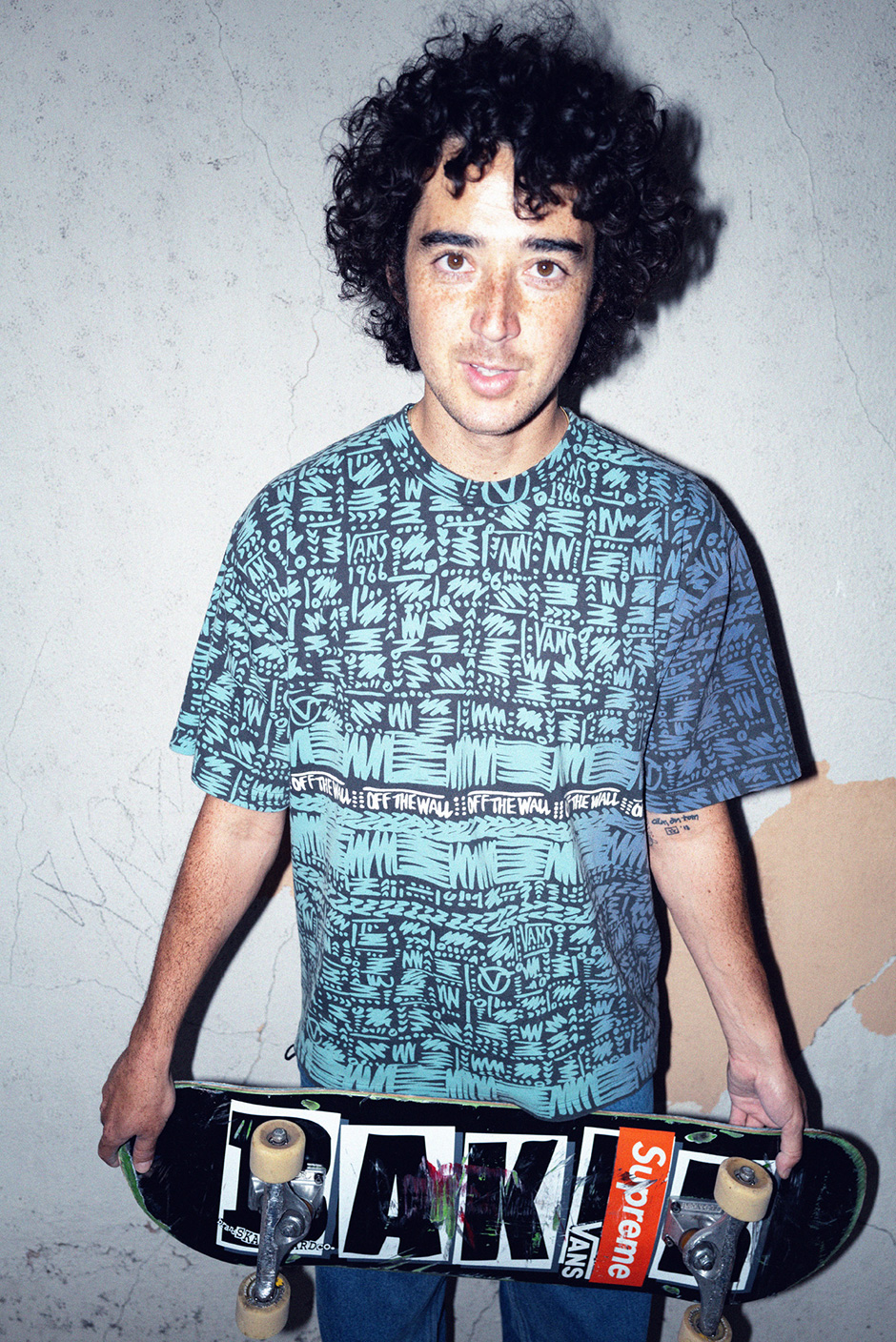 Words and interview by Jacob Sawyer. Photo by Anthony Acosta
We first met Rowan Zorilla at the House of Vans in London when the Propeller video premiere swept through town. Greg Hunt's seminal video feels fresh in the grand scheme of things, but it's approaching a decade ago that we sat in the Prince Charles cinema and took that Vans masterpiece in for the first time. We caught up with Greg and Rowan back then, and have also since published a comprehensive interview with Rowan about his life post-Propeller, the video project which he credits as changing his trajectory. The release of his second signature shoe for Vans seemed like the perfect opportunity to connect with Rowan once more about this significant moment, and beyond.
Rather than focusing solely on Rowan's new shoe, we approached him with the idea of an 'Offerings' interview, and we're delighted that he embraced the idea. As Rowan has already been interviewed about the specifics of his second pro model shoe, it was nice to do something slightly different, a conversation about some things he loves, that follows on from our interview with Beatrice Domond in the summer. Interestingly, he picked a skate video that ties into the process behind Propeller, made all the more memorable because of his first trips with Vans. He also turned us onto a new book, a definitive reggae album, and took a moment to romanticise one of the greatest love stories of the 90s.
Of course, we tied everything up by taking a closer look at the Rowan 2, discussing the positive impact this carefully designed re-imagining of his first shoe has had on his skating, and explored the baseball event that supported the release. We also spoke about working with Greg Hunt again for BLURRY, an evolution of their working relationship that found Rowan on the other side of the lens, and actively involved in the editing process. It was a pleasure to check back in with Rowan at this juncture, and we look forward to receiving his new shoe. Enjoy discovering more about his selection, and finding out where he is at right now.

Destination Unknown – Antihero Skateboards (2014)
What was going on with you when this came out, do you remember watching it for the first time?
If I remember correctly it came out right around the same time that I started travelling with Vans a bunch. Some of my very first trips were with Tony [Trujillo]. My first filming trip for Propeller was just myself, Tony, Greg Hunt, and [Anthony] Acosta. We went to Montana and checked out a ton of different parks. It was not long after that this video came out and Tony has a really great part in that. It would have been easy for me to select Fucktards as my favourite video too. The things I've picked aren't really all time favourites, they're just the first things that came to mind. I'm sure if you asked me again in a few weeks they'd be different. This one came to mind because at the time it came out I was starting to travel a bunch myself so it felt kind of cool.
It's like the ultimate example of a road trip on video.
For sure, also it was just after Grant [Taylor] had got on who is one of my all time favs. So I enjoyed seeing him in an Antihero video alongside everyone else. The soundtracks are always great too. I think this went straight to YouTube as well which I thought was pretty cool, no frills, just here's our video, have at it.
You've mentioned in interviews before that Baker videos and Antihero videos were staple inspiration growing up so this is a fitting continuation of that but you're viewing it from the same situation.
It is for sure, just being a jaded skater I always felt like I missed the glory era of all of the best skate videos. So to be a part of making one, and to see a really great video come out at the same time, it was sick.
Great form. Grant Taylor's noseblunt slide from Destination Unknown
"I always felt like I missed the glory era of all of the best skate videos. So to be a part of making one, and to see a really great video come out at the same time, it was sick"
What moments stand out for you from this video.
Tony [Trujillo] does some lines, I'm not sure where they are in the world. He does a lot of deck work, I'm not sure who called it that. People have said in the past "be careful of Grant's deck work". He does different lines skating through whole skateparks, from one bowl to the other, he'll pop out of one, cruise along, then do something into another one. That stands out to me. He does a tailblock on something, it's not a spine, it's like a vert extension but he pulls it over into a tiny quarter, that always stood out to me. Maybe after I hang up with you I'm going to watch this video again because I'm not sure when the last time I watched it was. It's great having Jeff Grosso in there. As far as Grant [Taylor] the standout clip for me is the noseblunt he does on a quarter pipe that goes up and then down, but he gaps out to it way before it starts going down to the very top of it and noseblunts all the way down.
So good, he does them the same way Julien Stranger does.
Exactly. Andy Roy has a part in there and I think there's only one trick in the whole thing where he doesn't grab his board which is pretty sick.
Frank Gerwer's hill bomb is memorable.
Oh yeah, it's the classic one where he's wearing the yellow coach jacket.
Everything looks just as good ten years later, I guess that Fantastic Voyage video wasn't too long ago, that spirit is still alive and well.
Yeah Julien Stranger does a great job. I have revisited this one specifically in the last few years
---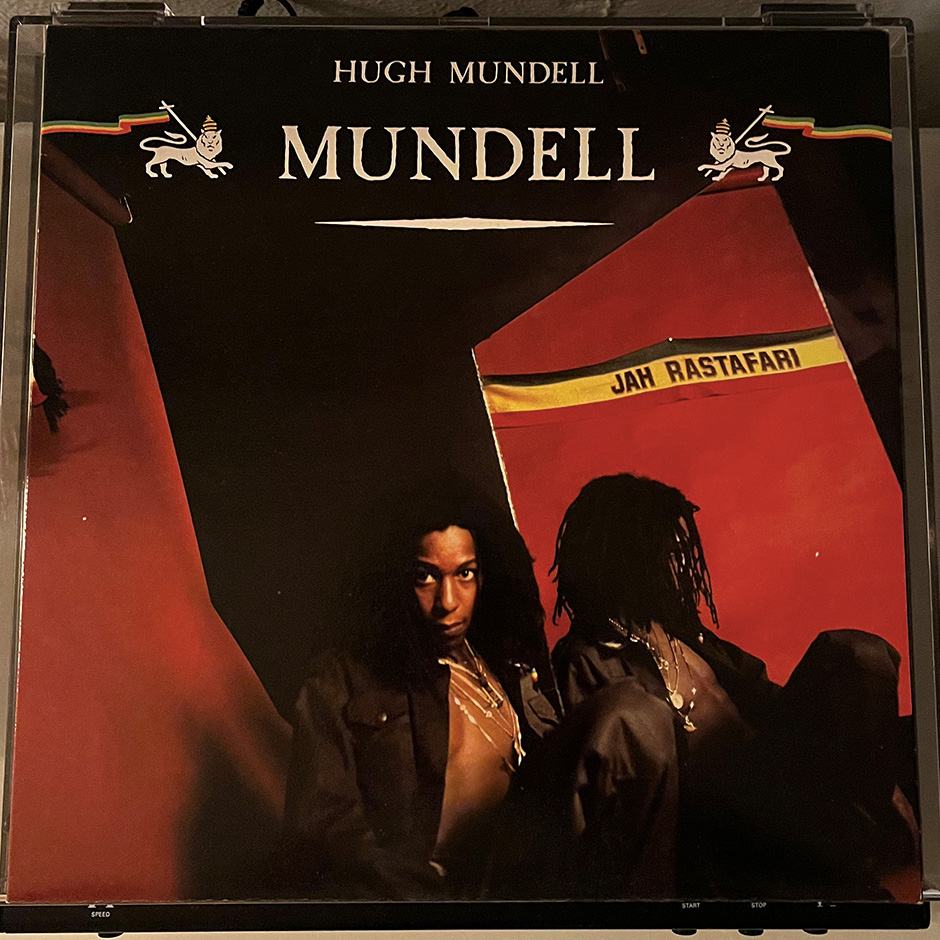 Mundell – Hugh Mundell (1982)
I really liked the song "Going Places", I enjoyed listening to this record this morning. Was it hard to pick one album?
What I pick could change at any time, same as with the video. I have a small but decent record collection myself, it includes a lot of my records and some of my fiancées. When you asked me to pick one I just went over there and looked through albums I have. It would be easier to search my Spotify thing and see what I've been listening to a lot. This record is one I find myself playing quite often though, I'll put it on in the morning, or have it on when I'm tidying the house or doing the dishes. I find myself coming back to this one a lot.
That track "24 Hours A Day" is definitely my favourite one on the whole thing. I have a fond memory of being away with my fiancée, who was my girlfriend at the time. We were in Lake Como on a boat driving around the entire lake. She filmed me do a backflip off the boat at one point and that song is on in the background. Now I always associate it with our trip to Lake Como which is a pretty insane place.
When did you pick this up?
Probably a few years ago, I definitely knew that song and some other songs already, like "Jacqueline". When I saw it I just picked it up.
When did you start listening to reggae?
I've always liked it but when I was a kid it was Peter Tosh, and Bob Marley. I forget what really got me into it but I imagine it was around the same time as I started smoking weed, and a friend I had showed me that there was way more than just The Wailers. The Wailers are sick don't get me wrong, but it went from the really popular guys to Eek-A-Mouse, and Barrington Levy. I then realised there's a whole world of it from Dub to Dancehall. You can go a thousand different routes. I'm still not very knowledgeable about it but I do have quite a few records, and there's quite a few people I like.
When you're talking about collecting records reggae opens a whole other radar of possibilities.
For sure, I think my collection has become mostly reggae at this point just because it's so hard to buy a bad one. If you see something at the store that says Greensleeves, or Studio One, or Trojan, it's probably going to be good.
"I think my collection has become mostly reggae at this point just because it's so hard to buy a bad one"
Can you think of a specific skate trip defined by a record you have fond memories of?
There was this one skate trip when we were real young, it was when I was rolling with Riley [Hawk], and [Taylor] Kirby, and the whole Shep Dawgs crew. We were just driving up from San Diego to San Francisco. I forget where we were, maybe at those Waller ledges near Haight Street. I think tensions were high, a lot of us were disagreeing about certain things.
Not on purpose, but I went to Amoeba Records because it's right there and I bought a CD by The Congos. We were smoking weed or whatever and I popped it in. Me and my other friend Nick were sitting in the back and halfway through the CD we noticed that everyone had chilled out, no-one was fighting any more. We were arguing about what spots to go to, or who didn't pay for gas, whatever it was. But I remember that moment, it cooled everyone off. Maybe it was the weed too, I don't know.
---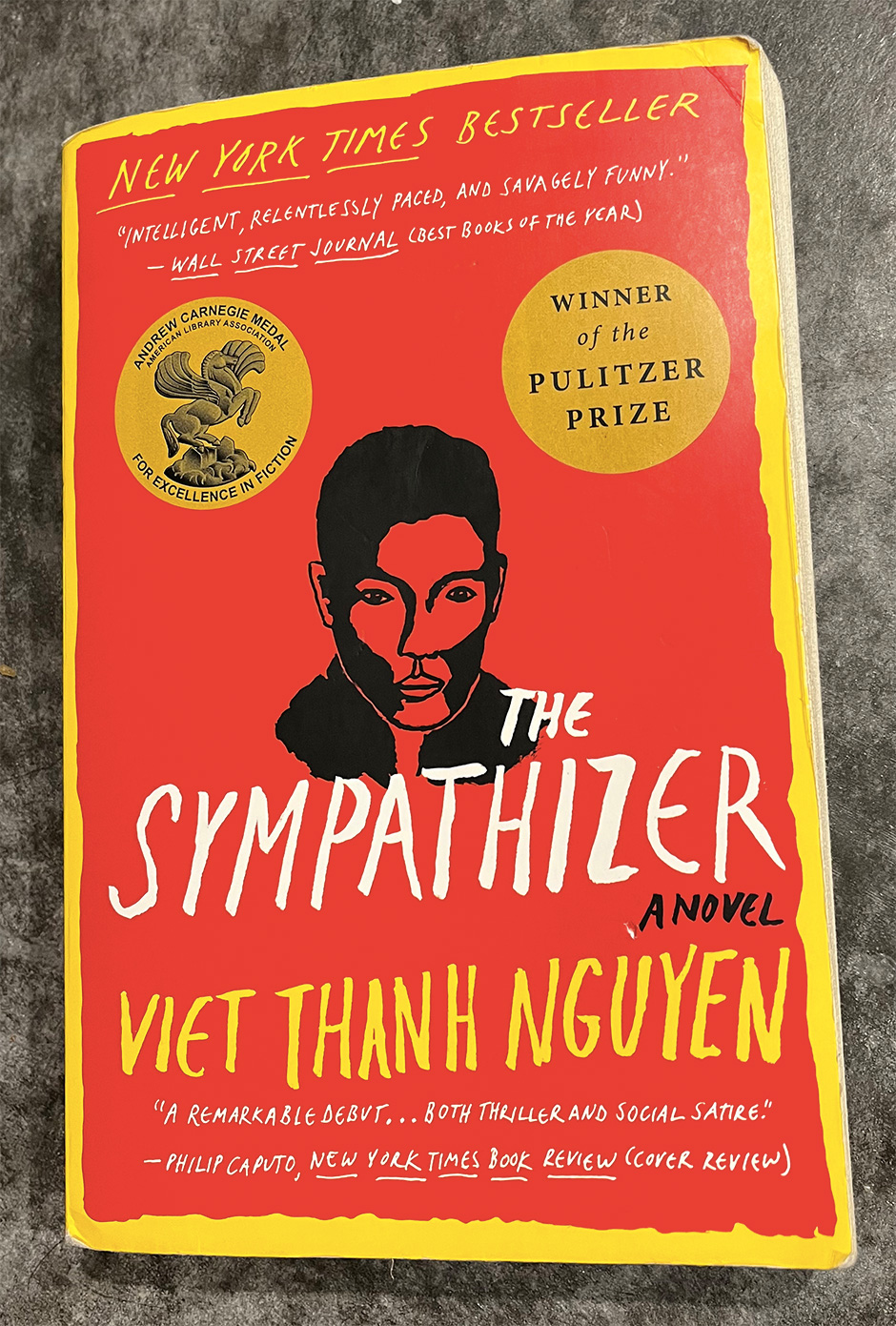 The Sympathiser – Viet Thanh Nguyen (2015)
Tell us about this novel, it seems like one of a kind…
This is the book I'm actually reading right now and I'm almost done with it. It's the book I've been most hyped on reading for quite a while. Lots of books I'll read to pass the time but this one I've been really enjoying. It's quite crazy, I heard that they're turning it into a show so I need to finish it.
Apparently HBO picked it up and Robert Downey Jr is playing a character.
So it's true, I definitely need to finish it then, I hadn't looked too much into it. This was a gift from my sister for Christmas, and I just got around to starting it because I was reading something else at the time. It checks all of the boxes for me as far as a novel. It's about a spy who is second in line to this general, he is a captain for the Southern side in the Vietnam war who were helped by the Americans. But he is actually a communist spy, he's really high up but he is reporting back to communist intelligence the whole time.
"it gives an insight into what it would have been like, not only being Vietnamese, but to be a foreigner in Los Angeles or the States during that period of time"
The book starts with them fleeing Vietnam and showing up in Los Angeles in the seventies. The way he writes is really cool, it's fun to read, and it gives an insight into what it would have been like, not only being Vietnamese, but to be a foreigner in Los Angeles or the States during that period of time. I'm not Vietnamese, I'm half Filipino on my dad's side. My grandpa, and grandma came over in the sixties, or the late fifties. It's kind of a trip and it gives an insight into what it may have been like for them.
Did they tell you stories?
They definitely did but my grandpa died when I was ten. If he was alive now I'm sure he would have told me a lot of crazier stuff. My grandma passed away pretty recently but her English wasn't great as she got older. My dad has told me tons of stories that he heard from them or from when he was younger too. Crazy stuff, my grandma taking my dad, my aunt, and my uncle to school on the bus, and barely speaking any English at all at the time. Such a crazy way to navigate a new world.
It reads like this is the antithesis to how the Vietnam war is always portrayed in mainstream media. The other side of the coin to many war movies that are more flag-wavingly American.
It gives you a real look into the other side of things. You kind of instantly love the main character so much, you find yourself on that side of history even though America's involvement was quite questionable. I think I have about sixty pages left, I have no idea how it's going to end so I'm pretty excited. I'm glad I'll finish it before the TV show serves up any spoilers.
Do you manage to read often, and what is your favourite genre?
I like fiction for the most part, sometimes non-fiction based on a true story is fun, this one kind of fits into that. As for the last few books I've read, Cherry is one of them, a book by Nico Walker about a soldier coming back from war and becoming a full-time junkie because of the opiates he got real excited about over in Iraq. I feel like reading about really crazy characters and drugs kind of hooks me, it's the same with TV, an insight into a life you don't really know about. The book I read before that was My Year of Rest and Relaxation by Ottessa Moshfegh, it's about a similar thing, a girl in New York who is so hooked on pills. It shows you what life is like if you're so deep in that world.
---
True Romance – Tony Scott (1993)
Is this an all time favourite film? I love this one.
It definitely is an all time favourite, it's hard to pinpoint number one, but this is high up there. I think the first time I watched it I was maybe seventeen or eighteen. Not to reference the title, but you romanticise stuff you're first watching or experiencing when you're that young. It's a star studded cast as well, it's insane.
Unbelievable, they don't make them like that any more.
I love Brad Pitt's character in that one, the stoner that's living there on the couch.
Listening to Soundgarden.
Yeah, right, haha.
Do you generally enjoy watching what I guess would be considered old films?
Yeah I do, similar to music, you could probably list hundreds I don't know about but would be excited to see. I'm not that knowledgeable but the movies I have seen and love I hold dear in my heart. Sometimes if a movie is old enough I will give it the benefit of the doubt and give it a pass if the writing is bad, or its corny. It's old, that's how they made them, and often it's genius.
"I'm not that knowledgeable but the movies I have seen and love I hold dear in my heart"
The writing is pure Tarantino, crime, romance, comedy, violence, it's all in there. Are you a fan of his?
He wrote the screenplay right? I definitely am and would recommend this as a Tarantino adjacent film if you're into that kind of thing.
There's even a young James Gandolfini in there.
Yeah as the mob henchman in the Christopher Walken and Dennis Hopper scene.
My friends walked down the aisle to the Hans Zimmer music in this.
Oh really? The tune that runs through it, that's beautiful.
I always thought there was a kind of correlation to Christian Slater being into comic books and every scene being so visually memorable it's almost a panel from a comic.
I never really thought of it like that but that's cool.
Are you a regular cinema visitor?
I'll probably go about three or four times a year, I'd like to say more but thinking back it's not so regular. It has to be something I'm really excited to see. I got dragged to see Barbie recently, and I enjoyed it.
---
BlURRY was a great watch, was that a fun process actually filming and compiling footage on the other side of the lens?
Thanks man, I appreciate that. It was definitely the funnest thing I've worked on for sure. That's because of skating but also because it was the first time on that side of the lens as you said, but on a company level. I've done tons of little things on my own before that just for fun, but those can come out terrible, and it doesn't matter, there's no pressure. It was just crazy that from the idea it actually ended up being similar to what we had in mind initially. Often you'll come up with a plan, or a vibe for a video, and it ends up completely different. It's pretty close to what Greg [Hunt] and I spoke about before we started working on it.
Vans Skateboarding Presents: BLURRY. edited by Greg Hunt & Rowan Zorilla
It must have been cool being part of the editing process, how was it working with Greg in that capacity?
It was incredible. Like I said, I've made tons of random stuff before, I like messing around on iMovie. What happened was that the last track in the video is by a friend of me and my fiancées, his name is Stu and his artist name is Somniac. I kind of knew that I wanted to use that track and I made a tiny little edit of a few clips mixed with some of the High Jinx B-Roll stuff that I had filmed on the little digicam. I edited it to that Somniac song and sent it to Greg to get the feel of what I wanted to do across. I asked him to check it out, obviously there wasn't great skating in there yet but I wanted to communicate the feel I was going for.
He called me up afterwards and said he liked it and said he wanted me to be as involved in the editing process as I was down to be. I told him pretty much the same thing, I was committed and down to be as involved as he could handle me being, telling him what I want, giving feedback, and sending him shit. It was crazy, I felt like I had the best editing tool in the world on my hip because I would just send him really sketchy, poorly made edits to a section of a song, or an interlude, and send it to him to see if he got what I was going for. Then a few days later he would have added a bunch of skating, other stuff I didn't even think about, and make something that is way out of my league. He would send me those edits back, and they were always better than I could have expected. That back and forth was fun, seeing if he understood my intention, and then receiving something even better than I imagined.
"That back and forth was fun, seeing if he understood my intention, and then receiving something even better than I imagined"
That was what we did throughout the whole process until we got really close to finishing, then there was no real need for me to make stuff anymore. Greg would send me different versions, and I would pick what I liked. He would come over to show me updates, and we moved stuff around, it was really fun.
That incidental footage is very much in the tradition of what contributes to making an Antihero or Baker video memorable.
I'm really stoked that it came across that way, I just wanted to make something different. I feel like it's so common that videos announcing a shoe, someone going pro, or any kind of accomplishment, are accompanied by a solo part. After coming off of stuff I had been working on previously last year, and earlier this year especially, I didn't have a ton of time for this one so I was reluctant to put out a solo part. The idea was to get as many people on the team involved as possible, if they want to wear the shoe great, and if they didn't, no worries. I wanted it to be a look at what my year travelling with Vans has been like, and sampling the shoes before they were fully done. As I told you previously with Destination Unknown, and Baker videos, they have always been favourites, all my favourite videos have that homie feel to them regardless of what level they are on. To try and get that across was the main goal.
I read that the camera gave up the ghost as soon as its duties were done.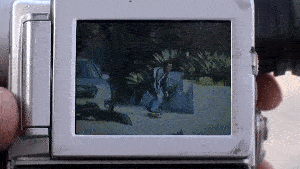 I think it died a month away from deadline. At that point the rest of the filming was just going to be done in LA, we weren't going on any more trips which is where most of that stuff was getting captured. The schedule then was different, meet up with a filmer, try something, go home. You're not with a crew for two weeks which is when you get the best stuff. One day I took the battery out of the charger, put it in the camera, and it didn't work. I ordered a new battery, put it in, didn't work. I think it knew it had done its job, it was time to rest.
Are you going to get another and keep it rolling?
Maybe, it wasn't the best camera, I just liked it because it fitted into my pocket, that was the main thing. It had the same convenience as when people capture wild stuff on their phone, but you're not filming things vertically so you can actually use it. Also, I think what often happens when you pull your phone out is it makes people reluctant to continue doing whatever it is they're doing. They worry that they're on your story, or that you're going live. When you pull out a shitty camera people feel less exposed, I feel like it captures more genuine stuff.
"When you pull out a shitty camera people feel less exposed, I feel like it captures more genuine stuff"
I'd like to get another one, I have a few little cameras I can film with but you need to have them in a backpack or keep them in a little bag which means you would miss some of the stuff I'm aiming to get. That five seconds of getting the thing out of the bag slows down that shoot from the hip style. A slightly different camera would be fine, it doesn't need to be the same one. When I was younger I used to film on those flip cams that had a USB that swung out of the side of it, remember them? They looked like the cameras people have on the front of their house, those were sick.
The session in Paris with Zion Wright in BLURRY is incredible, how did that go down? Had you planned to skate there or figured out what you wanted to do there and then?
I think that was our first or second day in Paris. That morning we had a kind of meet & greet event organised by Vans where we skated with kids in Bastille. We had been there for a while and Zion knew he wanted to go and skate that spot. I'm not sure he had that line in mind, he's such an amazing skateboarder he could probably do whatever he wanted. He suggested we go there because we were already close to the spot and his homie Naquan [Rollings] was around who could film us and handle it real quick, so I agreed to just come along. When we got there the wheels just started turning.
Originally the plan was to do the line I did, then skate the other side and do a regular impossible into the bank, and then a frontside flip to have mirrored lines, but I didn't end up going for the regular one. After we landed our tricks on that side Zion was saying that if I came back to mirror that line, he would try to mirror his too, frontside bigspin in, and then switch back heel. That trip found us skating all over the place and we didn't get a chance to get back to it. Maybe it would be cool to try that one later on.
"When we got there the wheels just started turning"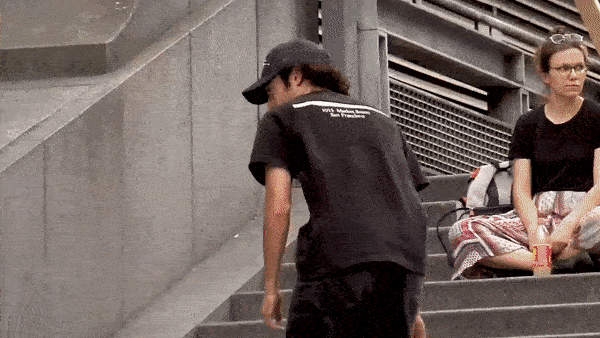 Rowan's Parisian two-piece from Blurry filmed by Naquan Rollings
Had you been saving that switch impossible for something?
I almost feel like the opposite of saving. I can do them on flat but not much else so I'm always trying to find something where I can film that. I have done it over a small street gap before but I think the dream has always been a set of stairs, over a rail, into a bank on the side that's not ridiculously high. That's the dream spot for it. Doing it into that bank that many times was definitely good practise. What's funny is that down stairs I think switch frontside flips are easier for me than regular ones. So I think if I did go back to mirror it the impossible in would be real easy but the frontside flip would be harder than the other one.
That switch frontside flip was fully supported by your new shoe which has way more cushioning than your last shoe, has that made a notable difference to you?
It actually has, for the most part I had always thought shoes are shoes, and it's all the same. I haven't skated a cupsole since I was really young, maybe twelve or thirteen, the age when you could jump off anything in a pair of socks and it wouldn't matter anyway. I guess I've been blind to what a cupsole can actually do for your feet for most of my skate career. Maybe it's also getting older and being a little more fragile, but there have been a few instances where I've been in the air, without my board, heading towards the ground expecting a heel bruise, and I've hit the ground, and brushed the dust off, a bit confused that I'm not hurt. That's pretty fucking cool.
The ImpactWaffle cushioning runs throughout the shoe right? As opposed to being just loaded in the back.
It's thicker in the heel, and tapers towards the front of the shoe for boardfeel, but it does go throughout, and it really works. It's the first shoe I have skated in ages that doesn't have a removable insert. All of the cushioning is built into the shoe, not into an insole that is just placed inside.
"All of the cushioning is built into the shoe, not into an insole that is just placed inside"
Do you prefer how this shoe feels to your first shoe, or is it horses for courses?
I love my first shoe so much, the whole time I had it I was scared that one day I would have to skate something else. But now I have gotten used to this one, it's better for sure, it's more consistent. [Andrew] Reynolds was telling me something. When I was skating the samples for the first week, I was whiffing kickflips because the rubber goes so much lower on a cupsole, a Vulcanised one almost wraps around. When I kickflip in Vulcanised shoes I don't think I even hit the suede at all, it's all rubber. When you're used to that it's phenomenal, but it's a little less predictable. Andrew just kept telling me to wait until I get used to the cupsole, that it's going to be way more consistent. I've been skating them for almost a year now and I'm used to them, but he was right, it's crazy.
I heard from a reliable source that it takes a lot to wear these out.
I put one of the first samples to the test and skated it until I couldn't anymore and it took a pretty long time. For me, being used to skating Vulc shoes so much, being used to how much rubber there is, the main thing that would wear out is from kickflips. When you wear through the rubber and start hitting the fabric, that's when I would switch to new shoes because I want that fresh feeling. But with these, when you wear through the rubber, you're still kickflipping off the same surface, you can wear them for a long time. The bottom plate, the sole stays sturdy too.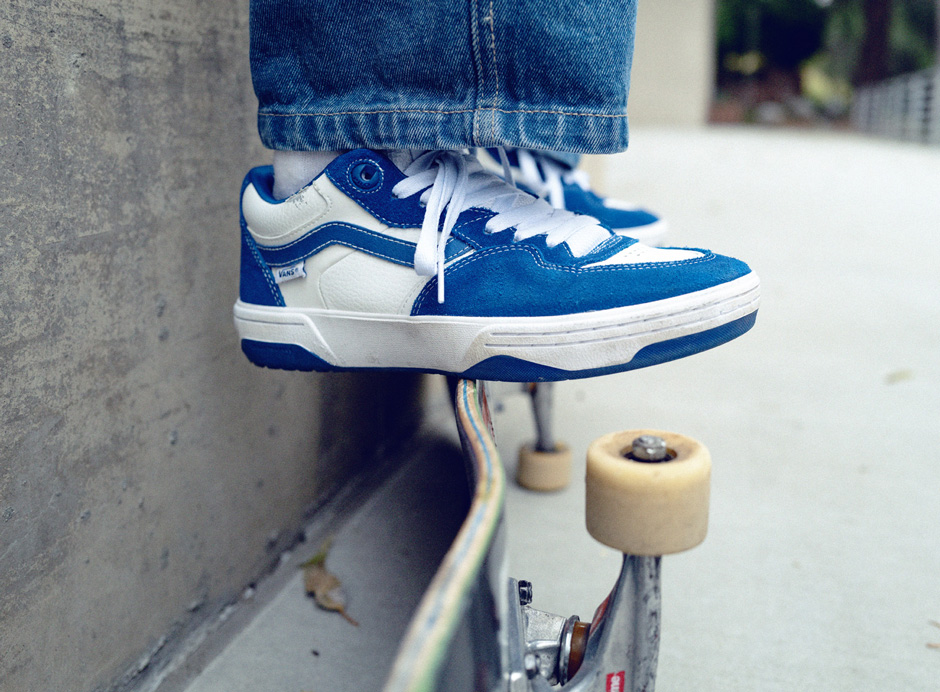 A closer look at the Vans Rowan 2 on foot and in the wild
The first colourway is inspired by the LA Dodgers?
Blue has always been my favourite colour, and I'm a big Dodgers fan too so it just made sense. That colourway came from me sending a bunch of mockups that I had done on my iPad. I sent them over and the design team really liked that one best. When the samples came back that was the colourway they thought was the strongest. The port colour was inspired by an old hiking shoe Vans made, I stole that colour and dropped it into the line drawing I had of the shoe. I have worked on a ton of colourways already, some that are coming out, some that are getting sampled, and some that will live and die on the computer screen. Doing that with my friend Dan who does all the colours for all the shoes at Vans is really fun man, I think we have done fifteen so far that will trickle out over the next year or two.
"I have worked on a ton of colourways already, some that are coming out, some that are getting sampled, and some that will live and die on the computer screen"
We saw the epic baseball game you organised for the launch. You have gone from playing baseball in your downtime to playing in a league, how is that new facet of your life going?
It's fun, it's not as serious as it might sound, we don't really do practises or anything. It's three Sundays a month that we will play a game. It's a beer league, everyone is there but no-one is trying too hard. Actually that's not true, we just lost the championship game two months ago, that one got a bit serious. It's fun to have something else to look forward to every week that can take your mind off things.
When you think of being league it sounds serious but I guess it's a sport that requires quite a bit of organisation to really enjoy. It must be nice to know you're getting a guaranteed game.
For me the way the whole thing started was during Covid. Out of boredom, a bunch of us would go and try to find an un-occupied field, and just fuck around. Slowly we got enough people involved that on Wednesday or Thursday nights we had twenty people, then we would go and have a pick-up game, pick teams on the spot and play. That happened for a year or two, and then a couple of guys who were are in the league I'm in now, would come and play on those fuck around days. They invited me to join the team but I was convinced I travelled too much, it didn't make sense to join something for me if I was gone a lot of the time. The following year they started a new team and my friend Grant told me it's no big deal if I have to miss games, that I should just join. I managed to make about half of the games, and it's been fun, I'm not skipping out on skate trips to be at the baseball games but when I'm in town it's really great.
Rowan Zorilla about to strike at the baseball game organised to launch his shoe. PH: Dan Mathieu
Were you playing baseball back when you first picked up a skateboard?
No, I played for three years from nine till eleven, but I started skating when I was five or six.
What are your plans for the rest of the year? Is there anything you're working on?
I'm heading to Japan tomorrow for a shoe launch party, it's not a massive baseball game but it's going to be fun. From there I'm going to Melbourne, there's going to be a little skate jam for the shoe there too, and then I'll be back at home. As far as video projects and goals, I'm kind of free right now. I want to just keep skating, build up some momentum, and then decide where to aim it.
Thanks for the interview, we look forward to seeing what's next, hopefully BLURRY II.
That would be really fun, I'd be down to do it even if it was on someone else too. Do the same thing, but for one of the other guys, and have a few clips mixed in, that would be sick. Thanks for your time.
---
We would like to thank Rowan for his time and very much enjoyed talking with him. Thanks also to Zach Sheats, and George Pedrick at Vans for the support, and for helping to make this happen.
More Rowan Zorilla related reading: Rowan Zorilla Interview (2015), Rowan Zorilla interview (2020)
Shop Rowan's signature model for Vans, and his board on Baker Skateboards.
Previous 'Offerings' Interviews: Beatrice Domond, Chris Jones, Kevin 'Spanky' Long, Helena Long, Tom Karangelov, Bobby Puleo, Ray Barbee, Zach Riley, Ryan Lay, Casper Brooker