We just received our allocation of the New Balance x Poets Tiago Lemos 1010. Here is a better look at this incredible collaboration realised by the NB Numeric camp…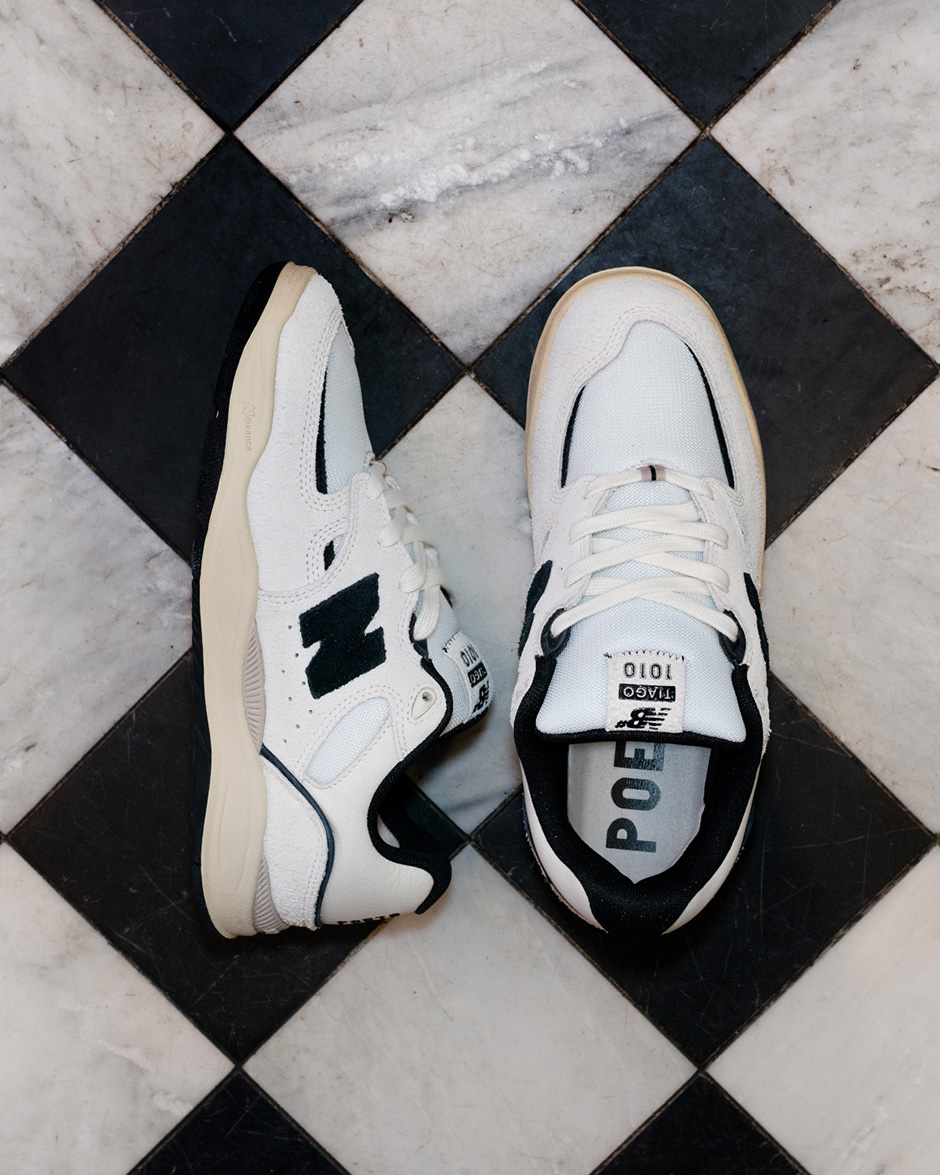 The New Balance x Poets Tiago Lemos 1010
Tiago Lemos' first signature shoe for New Balance was released back in 2020 and has gained a loyal following. Tiago was sure to harness the technology New Balance has been built upon to create a model that could support the powerful, technical skateboarding he continually blows minds with. The design of the NB 1010 is built on an aesthetic inspired by 90s skateboarding, and reinforced in every way possible by the latest tech cooked up in the Numeric lab.
To prevent slipping and provide another level of security and support they use FantomFit to hug the ankle and anatomical inner heel pods give the shoe a unique lockdown fit. They have a dual-density FuellCell foam midsole which offers propulsive cushioning where it is most needed. Durability is covered by an N-durance rubber outsole which increases the life span of the shoe and aids that Tiago flick. It is an incredible skate shoe in its own right but it just got even better in a favourite skateboarder's favourite skateboarder scenario…
It's amazing seeing these two humans together, they are both responsible for some of the best, and most stylish footage to greet our eyeballs. Gino Iannucci's input on the shoe is via the imprint of his brand Poets, this is the company he has been nurturing since 2002. Poets took it's name from the Poet's Corner neighbourhood in Long Island, and everything they have ever put out is imbued with a timeless style just like this creation.
The goal for this project was to take Tiago's 1010 and elevate it. We have seen so many collaborations over the years and the worst are always thoughtless collisions, this is the opposite. Gino opted to use hairy suede overlays which reference New Balance heritage models, this premium material draws your eye to the panelling of the upper and these suede additions are signed off by a contrasting black hairy suede "N" on the side panel. The shoe is bold but understated, it is enhanced by considered accents, black piping accentuates the monochrome build, and Poets branding appears harmoniously on the heel and insole. We were stoked to see where the video for this release took them…
Long Island is the home and inspiration for the Poets brand so we knew we would likely get a glimpse of Gino operating on home turf but it was a treat to see some new clips at the Roslyn Banks. This spot is synonymous with Gino's career and every manual he has gifted us there has been memorable, it was great to see him skate alongside Tiago on this mission. His switch 180 manual precedes Tiago's switch varial-heel-switch manual. We noted that Tiago's trick backs up Gino's switch-inward heel version from Nothing But The Truth, adding a further layer to this session which was a joy to see. Here is the box you will receive…
---
To get yourself pair of New Balance x Poets Tiago Lemos 1010's shop with us now for New Balance.
For more Gino related content check out Lightbox: Gino Iannucci by Ben Colen and Visuals: Joe Gavin