This post has been put together to dissect and expand upon the London Calling event that has been planned for the 17th-20th August. This four-day event has been put together to celebrate 70s skateboarding in the UK. We hopped on a call to Steve Douglas who has been instrumental in making this celebration happen to find out more about all of the moving parts, the motivation, and the bigger picture so we could impart some of that to you. This mission is a labour of love that has grown into something guaranteed to be memorable and you're invited…
When skateboarding's second wave of popularity broke on UK shores in the mid-1970s, the country began to carve its own unique path through the landscape of a global explosion. The UK scene began in the shadow of the Californian originators, but before long this new generation had adapted to the terrain, designed skateparks, created their own teams, crowned their own superstars and ultimately developed their own industry, forming an aesthetic and a style that went on to inform global culture as we know it today.
The UK skateboarders—and the artists, photographers, designers and film-makers that their activities inspired—broke new ground in skateboarding over the next five decades. They adapted their culture to the UK environment and took skateboarding in different directions from its sun-kissed beginnings, their endeavours reverberating through the mainstream now more than ever before. – Neil Macdonald
Every year when returning to England for holidays Steve Douglas has endeavoured to get people together, reunions which began to grow, gather steam, and attract more characters from out of the woodwork. People were appreciative to be involved, excited to swap stories, and overwhelmed by the vibrations that only occur when everyone is in the same place at the same time. This got Steve to thinking about how that whole scene would be if all of the legends from his youth were brought together. Following the get-together last summer Don Brown was enthusiastic about how good it was and adamant that it needed to happen again. This sentiment has evolved into London Calling, a four-day event planned by Steve [Douglas], Don Brown, Bod Boyle, and Dan Adams. The focal point for this historical event is an exhibition at Pure Evil Gallery which is a short walk from our East London shop…
---
THURSDAY 17TH AUGUST
'70s EXHIBITION OPENING NIGHT. 6–9pm Pure Evil Gallery, Shoreditch. Featuring iconic 1970s skate photography by James Cassimus, Wynn Miller, Tim Leighton-Boyce, Jerry Young, Robert Vente and others. Displays of magazines, artefacts, original boards and equipment from back in the day.
RSVP required. Click on this Evite and sign up if you are coming to the exhibition opening night. PLEASE NOTE that the gallery has a limited capacity and we want to be able to accomodate EVERYONE. (To avoid any disappointment on the 17th for those who want to take in everything on display. It is recommended you visit the gallery on the 18th or after as entry may be restricted and viewing time limited)

AFTER PARTY 'til 2am with sounds by Alex Turnbull (STRICTLY LIMITED CAPACITY).

---
Steve Douglas in previous interviews has said that "the UK is the best and most influential skate scene in the world, outside of California". This exhibition sets out to qualify that statement from many different angles while focusing on the impact of the 70s pioneers who were laying the foundations for people like Steve, Bod Boyle, and Don Brown to follow their path. It is an effort to thank them for their contribution and remember just how good they were on an international level.
In the September 79 issue of Skateboarder Jeremy Henderson and Marc Sinclair have a joint interview. After shooting them for just a few minutes James Cassimus is quoted as saying "these guys are good enough to skate in the finals of the Hester series". This was an American magazine, with an American editor, recognising that these guys were good enough to skate in the finals. Based on that interview you can say that the level of skating going on in the UK and the US was on par.
Steve, Bod, and Don all agreed that this event should be about their influences, the guys who are getting older, the guys who laid the foundation that inspired them. Steve referred to a heartbreaking quote from a conversation with Jeremy Henderson who said "thank you for reminding people of what we did so they don't forget about us". This is the motivation behind the whole exhibition, it has been put together to represent this important time period and the people who were there, to remember that history and celebrate it so it doesn't get lost.
"thank you for reminding people of what we did so they don't forget about us"
Different rooms at the exhibition will tell different stories, from the foundation of skateboarding's brief explosion and disappearance in the 60s to it being re-born in the 70s. It will visually represent the foundation of the 60s, the industry of the 70s from hardware to footwear, through to UK skateboarders like Mark Baker even getting the first signature truck. The 70s boom ushered in better equipment and a new industry including UK based brands like Benjyboards and there are many stories to be told within those spheres alone. It will also expand on the parks, the shops, and the DIY wave which swept the country.
"the UK is the best and most influential skate scene in the world, outside of California"
All of this will lead into the people involved, the main focus being the UK skateboarders who made up the scene, and the US skaters who came to visit and became part of it themselves. An influx of Americans spent time on these shores, influenced their UK counterparts and made them better. Tony Alva, Stacy Peralta, Lance Mountain, Jay Adams, Shogo Kubo, and many more make up this story. The exhibition also explores the skateboard media which exploded to cover this new phenomenon, and the different ways skateboarding appeared in broader mass media.
Photo archives have been mined to make this a very visual experience and the exhibition includes many images that have never been seen before. Expect cabinets filled with ephemera and video footage of collections like Rob Ashby's which are extensive enough to warrant their own exhibition. Everything that has been gathered and created for the exhibit is impactful enough that anyone who visits is going to be able to see it and understand it. Other events have scratched the surface of this history but this delves deeper and we are excited to see what has been put together.
---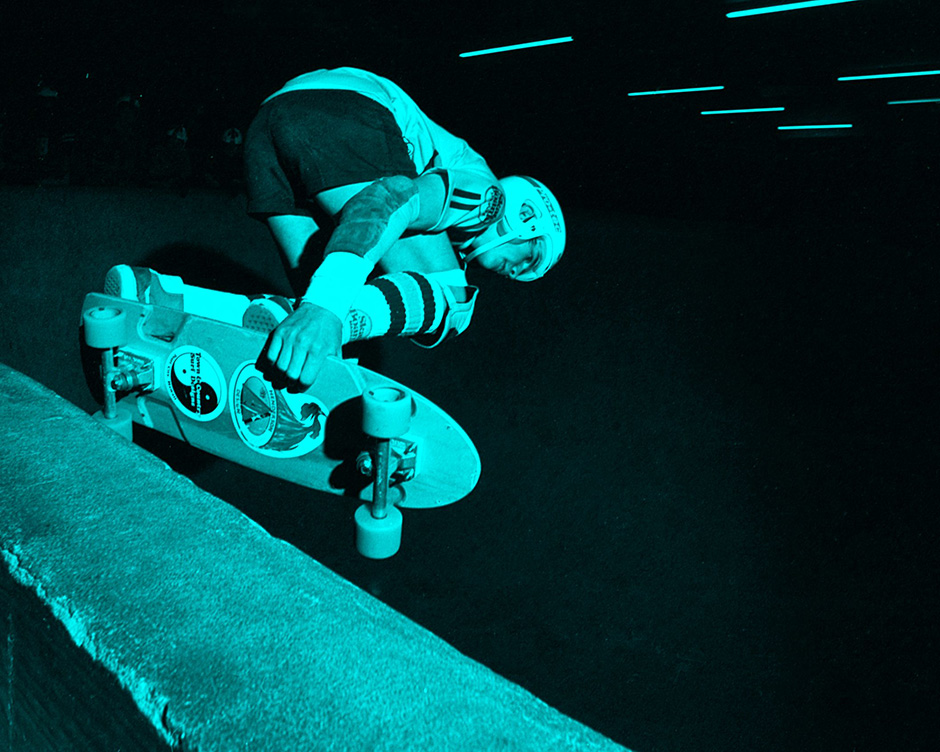 FRIDAY 18TH AUGUST
'70s EXHIBITION 10am–6pm. Pure Evil Gallery.
'70s SKATE FORUM 11:30am–3pm UCL Gower St. WC1E 6BT. Live in-conversation appearances by Jeremy Henderson, John Sablosky, Ben Liddell, Kadir Guirey, Alex Turnbull, Simon Napper, Sheenagh Burdell, Mark Baker, Jingles, James Cassimus, Tony Alva and more. THIS EVENT NOW FULLY BOOKED.
To watch the LIVE STREAM via YouTube please click HERE.
TONY ALVA meet and greet. Live appearance and signing at the Vans store, Neal Street, Covent Garden. 5.30pm to 7.30pm.
EVENING MEET UP Crown and Anchor, (the 411 pub), Neal Street, Covent Garden.

---
One thing skateboarders from all over the world are focused on is the forum, a chance to connect with some key figures from this period of time and ask questions. This discussion is going to be moderated by Dan Adams, Iain Borden, Bod Boyle, and Neil Macdonald. The forum holds 346 people in total but via the live stream link above it can be viewed from anywhere.
Rob Ashby, Dave Hopkins, Mark Lawyer, and Derry Thompson have been hunting down anyone who should be there. They compiled a huge list of names so that anyone actively involved in this time period can come and give thanks to the people they grew up seeing in the magazines This forum will be a chance to speak to Jeremy Henderson, John Sablosky, Ben Liddell, Kadir Guirey, Alex Turnbull, Mark Baker (on Zoom), Simon Napper, James Cassimus, Tony Alva, and Derek "Jingles" Jingoree (on Zoom), and Sheenagh Burdell. This will be followed by a chance to meet Tony Alva himself at the Vans store in Covent Garden, conveniently located next to a pub that has it's own unique relevance to skateboarding from another era.
"What's Rocco going to do next, a video magazine?"
The Crown & Anchor in Covent Garden is where the idea for 411VM came about. Tim [Leighton-Boyce] posed a question to Steve [Douglas] that would change how skateboarders connected with media for years to come, asking "What's Rocco going to do next, a video magazine?". A few weeks later Steve called Josh Friedberg while still in London, the concept for 411 video magazine was formed and the wheels set in motion. This is another thing skateboarders all over the globe can be grateful for, and the seed of it all came from TLB.
In Steve's words "Tim is the key guy in British skateboarding foundation . He's the guy who got me into skating contests, he started filtering skate photos into BMX Action Bike, and turning that publication into RaD. TLB is the unsung hero of British skateboarding and that 411 pub story is to give him the shine. He should win an award, he needs to be recognised by the global skateboarding industry".
Jeremy Henderson at Rolling Thunder in 1979. Photo by the unsung hero of British skateboarding TLB
All of the photos you see in this post were shot by TLB , he is the Henry Chalfant of UK Skateboarding, someone who was documenting it since it took hold, and has shaped its evolution and how it was seen. Although talking about a video born in the 90s is a slight digression, it stems from a visionary whose work plays an important part in this whole four-day event. Friday will be an opportunity to raise a glass to photographers like TLB, James Cassimus, and everyone else involved. This whole thing will be bringing people together who thought they would never see each other again, and some who have never seen each other before. The stage has been set for a huge celebration and Covent Garden may not be ready for the influx of skateboarders set to descend upon it.
---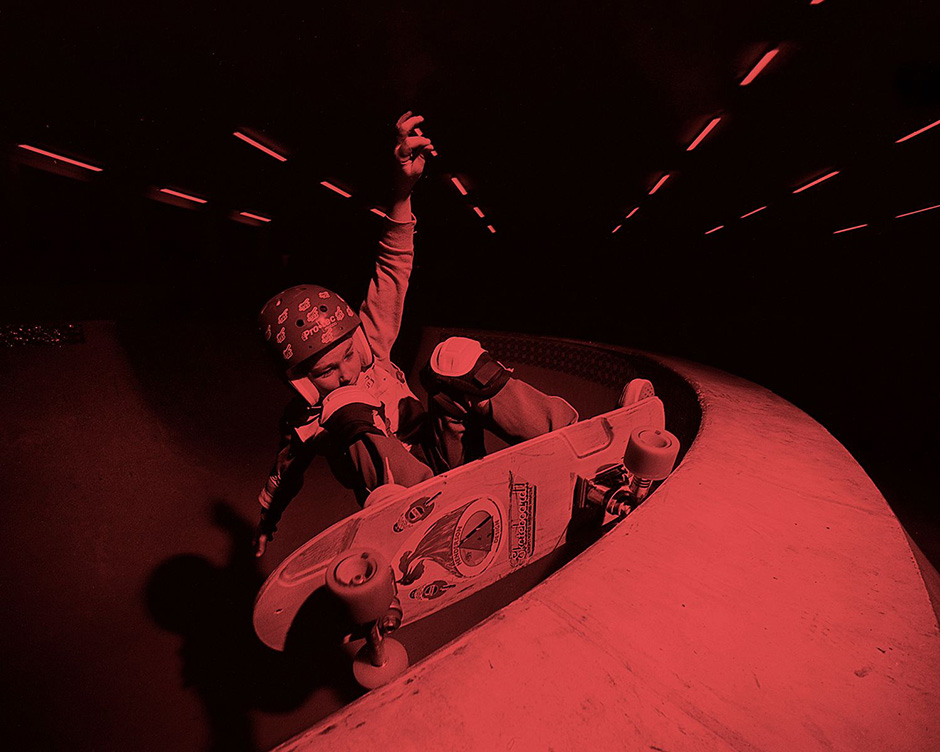 SATURDAY 19TH AUGUST
'70s EXHIBITION. 10am–6pm. Pure Evil Gallery.
SKATE SESSION. BaySixty6 skatepark (entrance fee)
Mini ramp and bowl session 10am–2pm.
SOUTH BANK 10th ANNIVERSARY REUNION from 2pm onwards.
DEVO The Farewell Tour. Celebrating 50 Years. Eventim Apollo. 7pm.

---
On the Saturday the exhibition will be open as it is throughout but there will be opportunities for everyone to skate together. From 10am-2pm everyone is being directed towards BaySixty6 skatepark where there will be mini ramp and bowl sessions in the spirit of the images that will have been ingested beforehand, with some less ominous transition than that offered by the likes of the Mad Dog Bowl or Rolling Thunder.
This will be followed by a South Bank 10th anniversary reunion. This has been organised annually for a decade now but the date has been moved to coincide with this event. This means that this year will be bigger than ever as decades of South Bank locals converge on hallowed ground. From London Skates Dominate lifers to locals who are enjoying their every day window right now. This epic meet up will be captured by legendary lensman Wig Worland.
This weekend also cosmically coincides with, and involves Devo who are having a 50 year farewell tour. Anyone attending London Calling is encouraged to get tickets to throw some live music into the mix. Rumours abound that the band have some special moments lined up for the skateboarding fans whose support they have embraced over the years.
---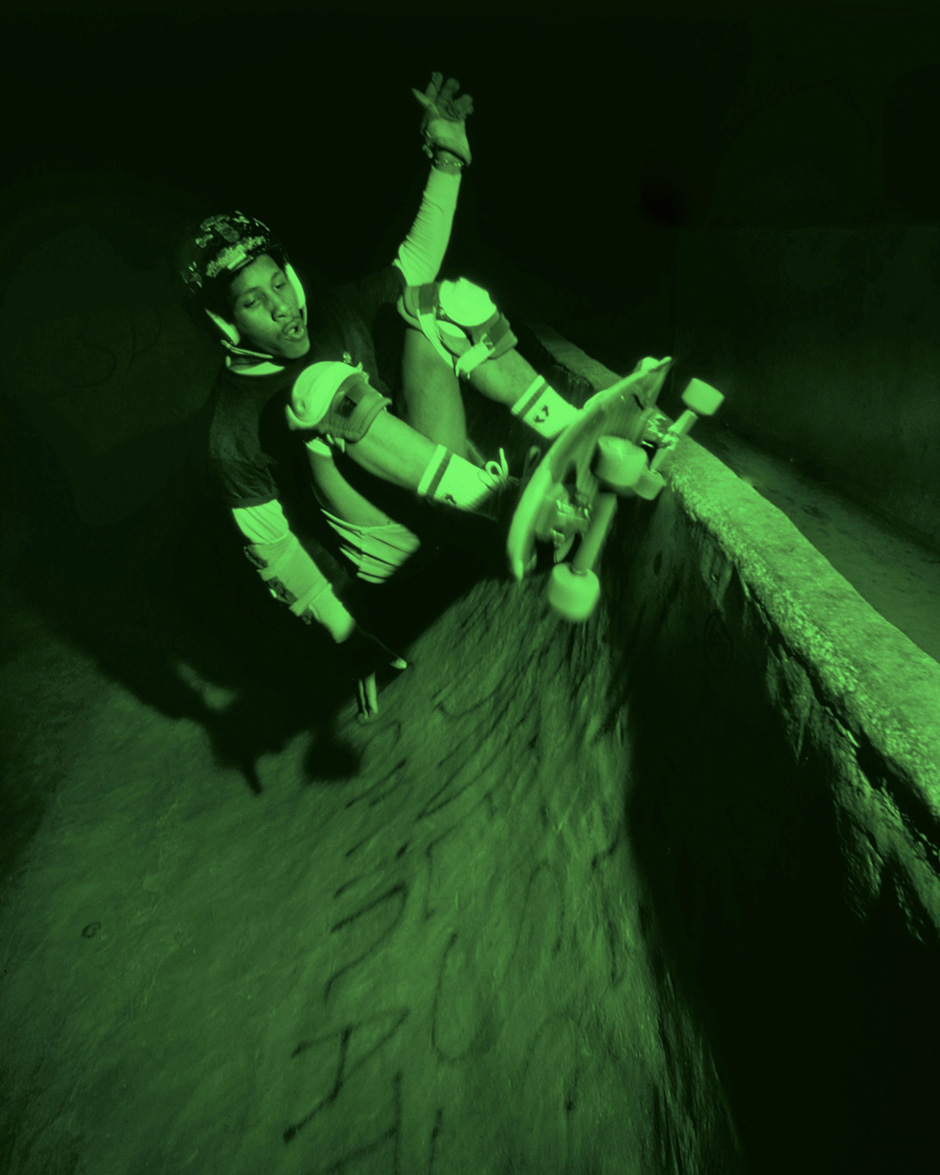 SUNDAY 20TH AUGUST
'70s EXHIBITION. 11am–6pm. Exhibition open daily until Sunday 10 September 6pm. Pure Evil Gallery
SKATE SESSION. Crystal Palace Skatepark (Free) — All day skate session — Park, Slalom, Freestyle. Bring your quiver!

---
Sunday will be a chance to wind down from the epic line up of entertainment and enjoy a skate at Crystal Palace skatepark. This park has a well-loved bowl and the location holds historical weight for many different people. The first published photos of John Sablosky, Marc Sinclair, Jeremy Henderson, and Jock Patterson were taking in Crystal Palace park in 1977 for Skateboard magazine.
This was also an important place for Steve Douglas and Bod Boyle years later as it housed a vert ramp that played a vital role in their evolution. Crystal Palace has been synonymous with skateboarding over the decades and now plays host to a whole new generation that will be joined for the day. Expect to see slalom and freestyle going down alongside the bowl action as this open invitation to enjoy the park is designed to involve everyone who skated [and competed] there over the years. There is even a photo session planned at 2pm under the flyover where the famous ramp was for all the people that sessioned it.
That is the line up of what everyone involved has worked tirelessly to organise and put together. We hope this is a heads up enough for you get to enjoy some, or all of the program. One thing that has been stressed is that the whole thing is done out of respect and not for profit. The proceeds from any items sold will go back into making the whole thing work, and any funds left over will be donated to The Ben Raemers Foundation. It will also be recommended that anyone who visits and enjoys the exhibition which is free to get into, donates money to this charity as well. There will be a zine on sale at the event. This is the result of many hours of interviews conducted by Neil Macdonald who spoke to a wide array of people about their experiences. Neil had this to say about putting this together…
"Steve invited me into London Calling to help with the gallery side of things, and it quickly became apparent that there was a massive scope for what the zine could be. With Steve having got in touch with all these legends, finding all these 70s people and having them in contact, it felt like the perfect opportunity to get as many stories down in print as I could. From Jeremy Henderson to Jamie Blair, Ben Liddell to Ben Howard, there have been some amazing lives lived, and I'm beyond stoked I was able to ask so many people about what they did during the sudden explosion of skateboarding in the 1970s, and the photos that have been coming in for it are incredible".
This zine promises to be a comprehensive must-have for anyone interested in attending in the first place because Neil has put the work in to make this as good as possible, as always. There will also be a very limited Anaheim edition Vans Era available…
The extremely limited London Skates Dominate Vans Era created in support of London Calling
These shoes were made by Steven Van Doren in support of the show, only 375 pairs were made! Limited sizes are available now from Slam City Skates. They are currently an in-store only release and all proceeds are being used to make the whole event possible.
The Vans Era was the original skate shoe adopted by skateboarders in the 70s and this sought after colourway was the one everyone had. For this release the design team focused on the Vans Anaheim factory last of this shoe, a shape that is truer to the original pairs that would have been skated in the 70s. London Skates Dominate were a prolific London skate crew from the 70s, the UK's answer to the Z-Boys. Steve Douglas says "As a 9 year old I was very aware of the LSD crew it was written everywhere at the time, even on my board. It was definitely an attitude". The London Skates Dominate crew are immortalised on the heel of this limited edition Vans Era, and also on the insole. The box is a work of art in itself, an original Vans box designed by Dan Adams to look like someone had kept their stickers in it for decades, again using London Skates Dominate imagery. Pick up a pair of these incredibly special shoes from our shop while stocks last.
This exhibition is dedicated to the 70s skateboarders who made everything possible, it has been put together to say thank you to them. There is also a bigger picture at play here, the intention is that this be the first of many annual reunions, and celebrations of British skateboarding. The ultimate vision for the future is to elevate British skateboarding so that in years to come we will hopefully be doing the same thing in our own museum. We hope this post has inspired you to be a part of this event, and we look forward to seeing you there. Respect to the 70s pioneers.
---
Huge thank you to Steve Douglas for taking the time out to talk to us about London Calling. Follow the event on Instagram and visit the London Calling website.
Thanks to the Read and Destroy Archive, and Neil Macdonald [Science Vs Life] for their help and contributions.
London Calling is brought to you by: Steve Douglas, Bod Boyle, Don Brown, Dan Adams, The Read and Destroy Archive, Iain Borden, and Juergen Bluemlein. Photography generously donated by Jim Cassimus, Wynn Miller, Tim Leighton-Boyce, Jerry Young and Robert Vente and others. Artefacts and ephemera kindly loaned by Rob Ashby, Paul Coupe, Adrian Wink and Ben Liddell. Content creation from Winstan Whitter / Colour Films and Neil 'Science vs Life' Macdonald.
The coloured photos that appear throughout, and have defined all London Calling communication, were all shot by TLB. The opener is Tim Levis at Southbank in 1979. The photo for the Thursday and Friday are both unknown skateboarders at the Mad Dog Bowl in 1979. The red photo for the Saturday is Mark 'Floater' Maunders at the Mad Dog Bowl in 1979. The photo for the Sunday is Derek "Jingles" Jingoree skating Rolling Thunder in 1979.