Here is the full story behind John Rattray's Why So Sad? mission and what you can do to support the important work he is doing…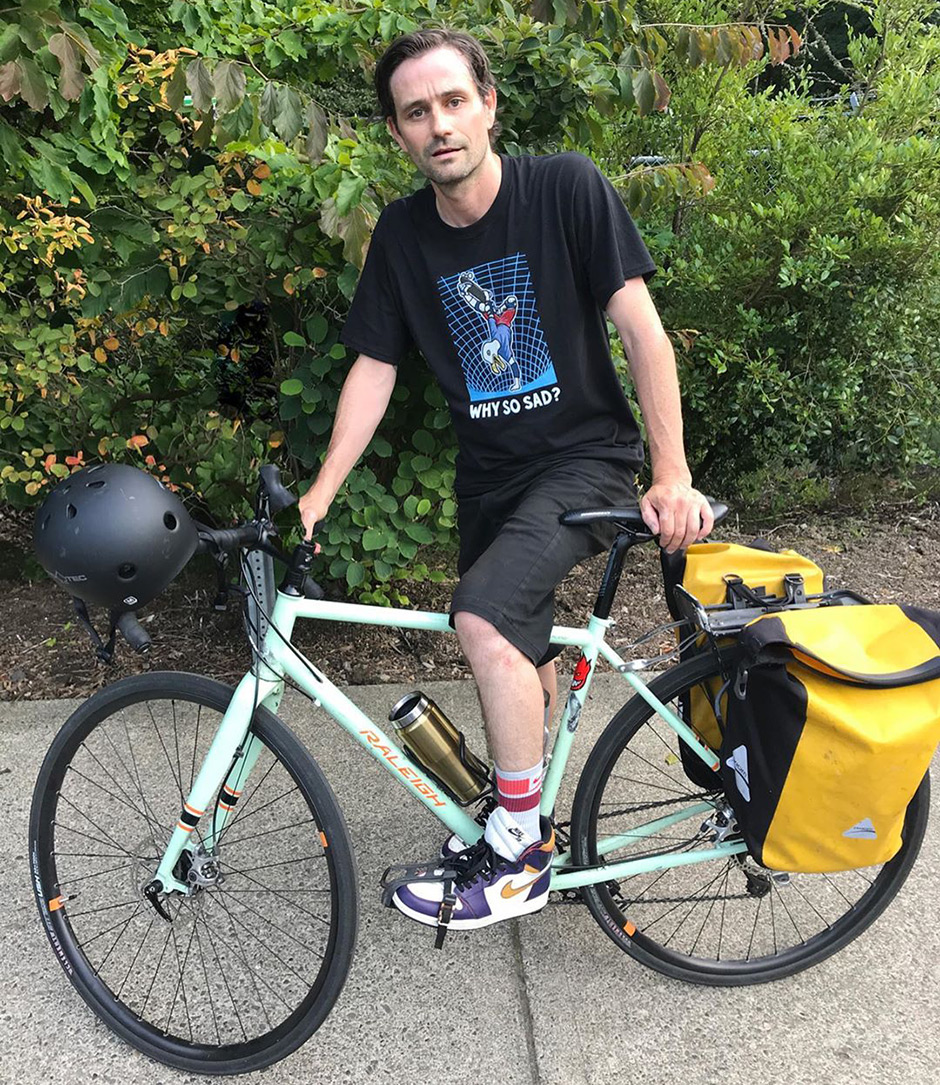 We have been friends with John Rattray for a long time, since the days he speaks of in the touching tale which accompanies this post. When our friend Ben Raemer's died tragically earlier this year he wrote this piece which is a call to action for all of us. John has been outspoken about the issue surrounding mental health for a long time and proactive about working to break down the stigma which accompanies it. His latest mission is themed around the sad plant and geared up to raise funds for cherry picked charities in England, Scotland and the US. Here is an introduction to his mission and musings about his personal journey in John's own words…
---
I've been organising a little fundraising cycle-skate adventure for the last three years. Together we've raised around $10,000 USD for organisations that do outreach and education around suicide prevention and work to destigmatize the subject of mental health in general. The hope is to normalize the subject, so that we can more easily talk about these issues at the dinner table.
What follows is a little memory of a time in my own life that's relevant and should hopefully provide a little context as to why this is important to me — besides being in memory of my sister, Katrina, Ben Raemers and really anyone who's ever got lost in the dark, lost hope and got caught up in the false belief that suicide was the only viable way out…
It's the year 2000, and my part in Waiting for the World is half done. For a month, since returning from California, I have been holed up in what is still my bedroom in my mum's house in Aberdeen. It is winter.
During the days there, my mum and my stepfather go to work, and I spend the days waking up late. It's just me and the cat. I talk to him every now and again. I eat mainly Weetabix, and play solitaire on the old laptop in an attempt to distract myself from the constant flow of paranoid thoughts that stream through my head, turning and turning; one thousand crazy little mouse thoughts trapped in one crazy little thought-wheel.
After I eat the Weetabix and play six games of solitaire, I stand at the kitchen sink to wash the fragments of wheat and the traces of milk off the bowl. From this sink I can look down through the lace screen that hangs over the window and see the garage. From this sink, as I rinse the bowl and the teacup, I drift down and move through the garage window into the cluttered gloom. Now I can see the strong wooden beams and glancing left I can see the electrical extension cord hanging from a long nail in the wall.
"No." I say, to the cat each day, "I can't do that." And then I snap back into the kitchen, finish drying the cereal bowl and go back to my room to play more solitaire. Solitaire is addictive. Solitaire requires some focus. Solitaire is a necessary diversion of my attention.
During that time lifelines are thrown. Skateboarding is supportive, compassionate and concerned; the phone rings a few times over a few days and I pick it up to Magee, Hellicar, Ben Powell and then Paul Shier. Shier said the funniest thing that I can laugh at now. The thing that stuck in my head and stayed with me. "Rattray, mate!" He said after I tried to explain some of my thoughts.
"Rattray, mate. I just wish I could climb through the phone line and into your brain and give you a little bit of the Shier."
The Shier confidence. The Shier optimism. The Shier internal light-switch. I love that spirit. I love that sentiment. And although it's not possible to climb inside someone else's head, it is possible to help each other notice what our minds can do to us when things go a haywire.
Ultimately, we each have to deal with our own brains. We each have to take the time to unravel the wiring, disconnect those short-circuit thoughts that creep in and get stuck on loop, and ultimately defuse the time-bomb that sometimes gets tripped. The techniques to do so exist and the skills are attainable. The crossed wires happen to us along the way as childhood happens to us, as adolescence happens to us and as trauma after trauma gets swept under the rug until the rug is a wrinkled mess that finally needs some really hard work to straighten back out. Excuse the clumsy metaphor but hopefully it makes some sense.
The goals of the organisations that we're raising funds for with this year's WhySoSad? mission, are to educate and propagate those therapeutic techniques and skills at a broad community level. I want to bring the professional therapist matter-of-factness around these topics to the dinner table, or the skatepark, or anywhere. There is a cultural shift happening already in how we approach the subject. We just need to keep at it until we all understand implicitly that everyone suffers these issues to some degree, and every one of us can be here to help guide each other through the labyrinth when life conspires to make us lose sight of our own personal internal light-switch.
Words by John Rattray
Inspired by our friends at Bonkers we ran a similar experiment to combat the bots when we released a recent Nike SB Jordan. We were stoked that this generated nearly £1000 for Grassroots. Please dig deep and take out some time to support the cause…
Donate to Grassroots Suicide Prevention, Scottish Association for Mental Health, Johns Hopkins University or buy a patch or a T-Shirt HERE