In his latest column, our resident chef and 'Senior Skateboarder', Josh Sutton discusses the link between skateboarding and nutrition and our intake affects our output.

Chef, writer and skateboarder Josh Sutton explores the link between skateboarding, nutrition and mental wellbeing – imparting a couple of recipes along the way. Above: Jefferson the Rabbit pilots an airline bound for Santa Monica. Words and illustrations by Josh Sutton.
I'll never forget the look on the face of Mrs Walker, my Home Economics teacher, when I told her I was cooking deep-fried egg and chips for my exam practical. It was the kind of expression your dad would return when you tell him you've just been busted for shoplifting: utter disappointment.
How the rest of the class of '82 fared, I'm not sure but I secured a Grade 3 CSE and left the course feeling I owed Mrs Walker a debt of gratitude for imparting a love of food, cooking, eating and writing about it. Skateboarding came a lot later in life. 
As far as I can see, skateboarding and food go hand in hand. For a start, there's commonality in the vernacular: "carving", "shredding", "grinding", occasionally things are served "boneless", "roastbeef", "stalefish", "salad" and, of course, there's the "bean plant". Personally, I get stoked skating bowl, especially at a jam. Spread it thick.
Skateboarding is a high-energy activity, placing huge physical demands on the body and many of those demands must be met with a diet that suits them – but try telling that to your younger self. As a "later skater", I constantly wonder about the effect skateboarding is having on my ageing body. Having been lucky enough with injuries so far, you could say I'm either not skating hard enough, or my calcium and Vitamin D intake over the years have stood me in good stead. That's probably as a result of never having lived in a shared skate-house. I've heard tales of skate-house kitchen capers that would have made Anthony Bourdain gag. Skate capers? Hang on, there's a recipe for that…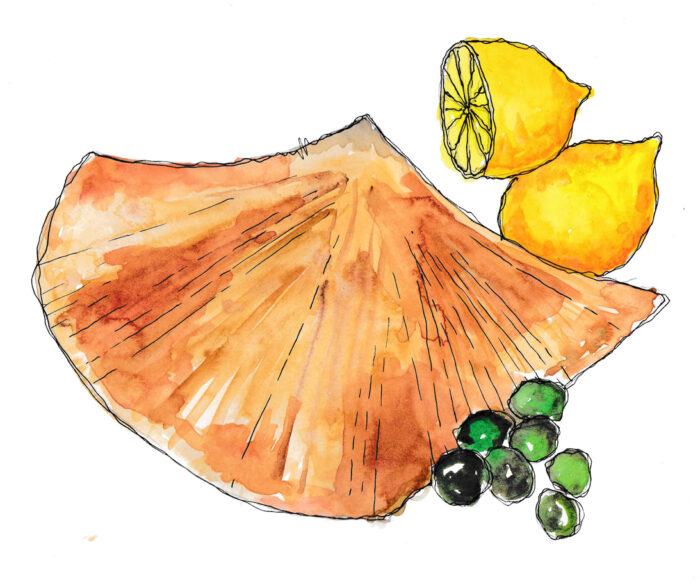 How to cook Skate Capers
Ingredients: A skate wing (250/300g), flour, salt and pepper, butter, capers, lemon juice
– Dust skate wing in seasoned flour and fry gently in butter for five minutes each side.
-Remove from the pan and set aside. Add another knob of butter to the pan and gently fry a couple of tablespoons of capers, seasoning with a little black pepper and add in the juice of a lemon.
– Pour the dressing over the skate and devour.
Back on track. Skaters come in all shapes, sizes, genders and ages and each of those aspects bring particular nutritional requirements. Different styles of skating demand differing quantities of proteins, carbohydrates and minerals. A gentle push around on flatground takes way less energy than a vert session or an entire afternoon battling a tech ledge trick. Those requirements also change as we grow older and slowly realise we no longer bounce as easily as we used to.
It's safe to say that (at least for a good deal of our history) skateboarders are not a species traditionally known for "dietary integrity". Whereas the intake would make other "athletes" crumble, skateboarders can somehow ascend to "year's best" status despite consciously avoiding vegetables, or effortlessly skate transition whilst churning through a pack of cigarettes – à la Dan Drehobl, or Coca-Cola like Alex Chalmers. However, change has been afoot over the last decade, perhaps marked by the common knowledge that "Reynolds eats fruits…" 
The cafes of British indoor skateparks were once propped up solely by menus consisting of fried carbohydrates and maybe a Pot Noodle. However, rock-up at London's House of Vans or Cardiff's Spit and Sawdust and you'll find a menu for the more discerning palate with vegetarian and vegan options, salads and falafel. Oh, there's another recipe opportunity…
A quick guide to making falafel
Ingredients: 100g dried chickpeas, 1 small onion (peeled and roughly chopped), 2 cloves of garlic, a small bunch of fresh coriander (30g) and flat leaf parsley (30g), 1 tsp ground cumin, salt and ground black pepper, 2 tbsp sesame seeds, sunflower oil for frying
– Soak the chickpeas in water overnight.
– Drain well and place in a food processor with the rest of the ingredients. Blend to a thick paste.
– From the paste, shape small balls and flatten slightly. Refrigerate for at least one hour.
– Deep fry in sunflower oil until golden. Serve in pitta bread with salad, a dollop of hummus and a splash of tahini.
Anyway, it's not just carb-fuelled energy that skaters need. Protein aids growth, muscle development and tissue repair; Vitamin C is essential in facilitating skin repair and calcium is needed for healthy bones which will help mitigate fracture. However, perhaps the most useful of all nutrients is Vitamin K, which aids the clotting of blood. Elbows, knees, shins – there's always blood. 
Matt Beare, founder of The Daily Push – a website offering health advice catering to skateboarders, knows a thing or two about nutrition. His website took shape during downtime from what he describes, in fairly accurate terms, as his body completely shutting down. "I herniated two discs in my back popping a frontside flip on flat, had patella tendonitis, and a hip problem that ended up needing surgery," explains Beare. "If I knew more about health, and how to take better care of myself, I probably could have avoided these issues."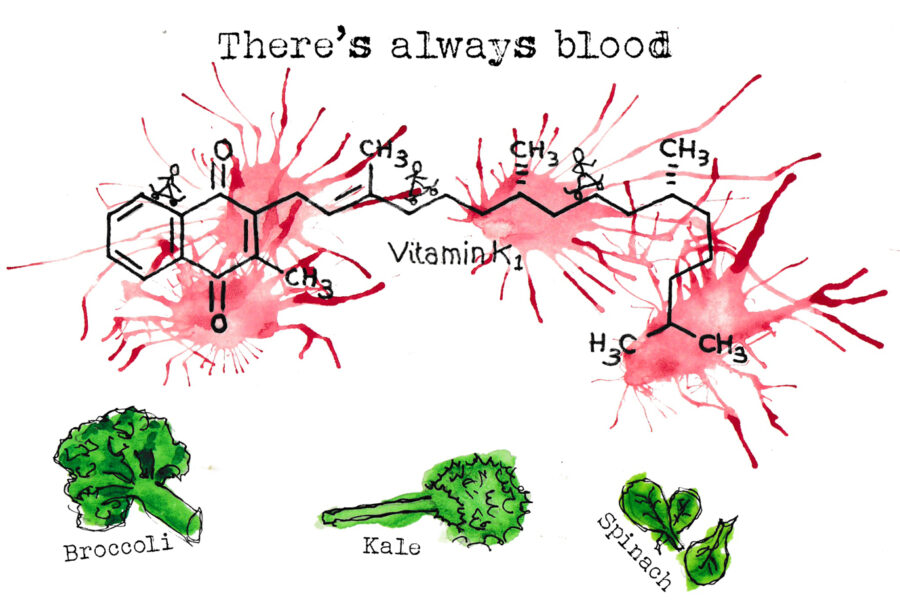 What started as a means to help other skaters avoid the injuries leading to long recuperation periods, has since evolved to incorporate warm-up routines, specific injury advice and rolling out infographics spanning hydration to essential fats via the platform's Instagram account. Such info makes the website accessible on a micro-biological level – with a healthy dose of humour thrown in to boot.
Humour, and our state of mind, is important. Just as we take on nutrients to aid and maintain our physical health and keep skating, skating in turn nourishes our minds. It plays a huge role in maintaining our mental health as well as that of our physical bodies. In his fascinating book, Skateboarding and Religion, Paul O'Connor writes that "Skateboarding provides a meditation, a sense of community, a feeling of power and self-determination", and this idea is often encapsulated in the mantra "skateboarding saved my life'. A number of skateboarders, both professional and amateur alike have written or spoken, detailing their struggles with mental health and finding a degree of salvation through skateboarding. Former pro skaters Jim Bates and John Rattray have spoken out about their own ordeals. Similar stories can be found the world over in books, blogs and interviews in skateboarding media, but what is it about skateboarding that, for some, aids with mental wellbeing?
Skateboarding GB recently released findings, from what amounts to a feel good report of "a striking correlation between people who skateboard and their improved mental health". The report was undertaken by Instinct Laboratory, a market research company, and Flo Skatepark in Nottingham. It goes on to describe how some people use skateboarding as a coping mechanism for their emotions, whilst providing younger participants a sense of achievement and belonging. 
"Just as our capacity for learning, well-being and creativity is enhanced by what we eat, our mental well-being can be improved by what we do."
Whilst more rigorous and tested research remains within the realm of academia, most certainly from my own experience, the correlation between skateboarding and mental well-being is clear and was amplified by the abstinence enforced by the first lockdown in 2020. The endorphin rush alone from dropping into a mini-ramp once again, following the first lifting, was enough to wash away the pent-up frustration and tumultuous nature of being cooped up for weeks.
Whilst skateboarding may have a positive effect on the mental health of many who do it, sadly it is not a magic panacea. The tragedy of well-loved figures, having taken their own lives is devastating. These events have also brought the subject of mental health to the forefront of skateboarding culture. Initiatives like the It's Okay Project and The Ben Raemers Foundation have emerged to prompt conversation and open up a dialogue, the latter working alongside skate companies to provide suicide awareness training and helping normalise the discussion through their SMile Interviews.
The plethora of creative activities which skaters enjoy – be that skateboarding itself or art, music, photography, filmmaking – plays a huge role in maintaining our health. Just as our capacity for learning, well-being and creativity is enhanced by what we eat, our mental well-being can be improved by what we do. In a world which has been affected most recently by the current pandemic and the necessity of lockdown, picking up our boards or creative instrument of choice can be the first step to remembering what the doormouse said: "Feed your head."
---
Previously by Josh Sutton: Senior Skateboarding, DIY Culture As Anarchism In Action.
Related: an excerpt from Jono Coote's No Beer On A Dead Planet courtesy of Josh's publishing imprint, Red Fez Books