Interview By Ben Powell / Darren Pearcy, Pushing. Photo: Chris Johnson
There are few other subcultures that so seamlessly combine an essentially anti-establishment spirit with a relentless willingness to brand and monetise everything in the way that skateboarding does. From the gaudy energy drink logos and sports arena handrail gladiators of today, right back to the touring Plexiglass fullpipes of the Pepsi-Cola skateboard team in the 1970s – this apparent contradiction between the 'fuck you' ethics of skateboarding-as-a-thing and the greased palms of a five decade gentleman's agreement with corporate finance is part of what makes our shared hobby so intriguing.
Skateboarding's eventual, inevitable inclusion in the Olympics served as yet another illustration of its schizoid heart and once again opened up both sides of the debate as to whose version of skateboarding culture was ultimately going to prevail. Alongside this came a collective realisation that the Olympic embrace brought with it expectations of a degree of administrative professionalism and national infrastructure not only considered antithetical by a huge number of skaters but, in the main, completely lacking from skateboarding as a global culture up until that point.
Thus, with the August 3rd 2016 International Olympic Committee announcement that skateboarding was to be a part of the 2020 Olympics Games came a clamouring rush to begin the long overlooked creation of Governing Bodies, National Federations and all the other structures present in everything from chess to volleyball but not in skateboarding.
Now is not the time to begin debating whether or not skateboarding should be in the Olympics: you can decide that for yourselves or not, it's up to you.
Similarly, the intent of this piece is not to dissect the necessity (or otherwise) of National Governing Bodies. Rather, in an attempt to provide some actual answers to the myriad of questions relating to the Olympics, the inexorable drift towards athleticism and the absorption of skateboarding into mainstream youth culture globally, we thought it would make sense to speak to someone deeply involved in this process on a professional level.
Of equal importance is the fact that said person has a deep and unsullied history in UK skateboarding, has skated since his early teens and, (although it's up to you to determine the worth of this endorsement) is a close friend of mine with a passionate and pure love for the act of skateboarding.
UK Skateboard Associations have existed previously in various different manifestations at various different points in skateboarding history. Those under discussion here are by no means the first, they are however the first to emerge following skateboarding's Olympic acceptance, the first to receive enough funding to allow the full-time employment of skateboarders, and perhaps most significantly, the first to be taken seriously by the official channels of Britain's sporting hierarchies. Prepare yourselves for a long read and, hopefully at least, the answers to some of the questions that you might have about 'this sort of thing'.
Big thanks to Darren 'Derby Daz' Pearcy for being open to do this and to all the photographers who helped with getting the photos together.
Enjoy…


Darren Pearcy, Feeble Fakie, Derby. Photo: Chris Johnson
It makes sense to start this off with the obvious question Daz – what's your official job title and who do you work for?
My job title is Skateboard GB Team Manager. I work for Skateboard Great Britain and I am currently the only full-time member of staff. The role is managed by Skateboard GB and Skateboard England CEO James Hope-Gill and the Skateboard GB board, which until recently was chaired by Lucy Adams but is now headed up by Alex Jordan.
Day to day, I work alongside James, Lucy and Neil Ellis. For anyone who isn't sure, we all work on both Skateboard England and Skateboard GB related projects and tasks. The role also requires me to collaborate with the British Olympic Association (Team GB), UK Sport, Sport England and The English Institute of Sport.
And this is a role that was created last year, not something that existed previously in any kind of format?
Yeah, that's right. The role was created in early 2019. Skateboard GB had been confirmed as the recipient of UK Sport Aspiration funding in February 2019. That funding enables SBGB to select and support a team of skateboarders and appoint a team manager in the lead up to the Tokyo 2020 Olympic Games. On Thursday, March 14th 2019, Skateboard GB announced its team of five skateboarders: Sam Beckett, Sky Brown, Alex Decunha, Alex Hallford and Jordan Thackeray would represent Skateboard GB and benefit from the UK Sport Aspiration fund award.
The team manager job advert went public later that week. I interviewed for the role in April and was appointed mid-May. The week after I was representing SBGB as Team Manager at the SLS open qualifiers at Bay Sixty Six skatepark in London. It was a whirlwind couple of months. Equivalent team leader roles exist in several sports, but this is the first time something like this has existed in British skateboarding.

Equivalent team leader roles exist in several sports, but this is the first time something like this has existed in British skateboarding

People reading this are inevitably going to be curious as to what exactly constitutes your suitability for this role so we ought to delve into your own personal skateboard history first. How did you first come across skateboarding?
I was born and raised in York but moved to Derbyshire with my family at around twelve years old. We rented in a couple of locations, before settling down in Belper, a small town just outside of Derby. It's in Belper that I discovered skateboarding.
I'd played football previously. In hindsight, it's apparent that it didn't suit me. I was desperately trying to fit into something that I wasn't good at and more importantly, wasn't really enjoying. We lived a couple of doors down from some brothers. I can vividly remember seeing them skating up and down our street for the first time. Just watching them roll around was enough to pique my interest. After numerous unsuccessful attempts at borrowing their boards, I scrimped, saved and bothered my mum enough to convince her that we should go and buy a skateboard.


Darren Pearcy, Hill Cruise, Scotland. Photo: Chris Johnson
Belper – isn't that where the locals came out and 'mooed' on the doorstep every morning to honour the NHS? Seems a bit…weird.
(Laughs), yeah that's the place. Unfortunately, I don't live in Belper anymore, so I've not experienced it first hand. Basically, during the early weeks of Coronavirus lockdown, some of Belper's finest got together and created the 'Belper Moo'. Every Night at 6.30pm, residents gathered at their doors, windows and gardens for a two-minute mooing session. It was set up to fight lockdown loneliness and boredom.
It was big news for a couple of weeks and apparently took off in countries all over the world. It doesn't surprise me in the slightest that it happened. Belper folk are the perfect blend of crazy and caring. Big up Belper.
Presumably growing up there meant that your first experiences of a wider skateboard scene would've been East Midlands based, right? Where did you travel to early on, who was around and what kind of era in skating more generally are we talking about?
I started skateboarding in 1998. I was fourteen, which I guess would be considered old by today's standards. My first experiences of skateboarding beyond Belper were reasonably local. A combination of street sessions in Derby city centre plus visits to Derby Storm, The House and Rollersnakes exposed me to the broader skateboard community and culture.
The majority of my early skateboard influences came from sessions at Storm and The House skatepark. The likes of Jim Harahan, Matt Prady, Ian Rees, Craig Smedley, Adam Fletcher, Brad Garner, Gaz Jenkins, Louis Slater, Dave Egglington and Arthur Tubb all had an impact on me in those early days.
Slightly off-topic, but I was staying with my gran one summer back in York. She had heard about a jam at a park not far from where she lived and offered to drive me over to check it out. Legacy skate shop owner and Death Skateboards pro Ronny Callow was at the park that day. He was wearing a rad Death mesh hat. I was so into this hat, I asked Ronny if I could buy it from him there and then (I'd never met or spoken to Ronny before). He said no, but asked me for my address. A few days later a brand new Death mesh hat and some stickers turned up in the post free of charge. I was so stoked, and I've never forgotten that gesture. It's pretty funny to think that some years later I'd end up living with his brother Danny. Cheers, Ronny.

Darren Pearcy, Smith, Chesterfield. Photo: Simon Bernacki
You were a fixture at local and national events early on in your skateboarding life, how has that informed your current role and outlook on skate culture in terms of the cultural value of contests/jams etc and of skateparks more generally?
That era is certainly informing my current role. I learned a lot about skate culture and the cultural value of events, skateparks and skate shops back then. Over the decades skateboarding has organically created a community that nurtures, educates, supports and cares for one another. That's extremely special.
The UK contest scene at that time made me feel like I was part of something bigger: a countrywide community and family. I'd never experienced anything like that before I started skateboarding. It quite quickly gave me a sense of purpose and belonging. The most notable events for me were War of the Roses, National Championships, Mini Ramp Championships, Night of the Living Dead, Concrete Carnival and The Boardroom and House Skatepark competitions. The vibe was infectious, and I wanted to be around it as much as possible.
At one point, it felt like Bambi (Christopher Price), and I were driving to skateparks around the country to attend an event every week. I wasn't the guy winning the cash-for-tricks money or walking away with the oversized cheque at the end of the weekend, but that wasn't the point. I got to ride my skateboard and hang out with skateboarders from across the country regularly at a bunch of different skateparks.
The skateboarders at those events inspired confidence in one another regardless of ability or background. Everyone was welcome; you just had to make sure you were down to get involved. I miss hearing "Av it Dad" being shouted down a microphone by Bob Sanderson, Churchill or yourself as I tried to land a trick. I've got massive respect for Nic Powley, Jerome Loughran, Joe Habgood, everyone at Sidewalk and anyone who put the work in to make all those events happen during that golden era.
At Skateboard GB, we ensure those values and skateboarding's integrity is always at the forefront of everything we do. A big part of our role involves collaborating with people and organisations that have limited knowledge of skateboarding's history or experience of its culture. Sharing our expertise, understanding and passion for skateboarding is really important.

A big part of our role involves collaborating with people and organisations that have limited knowledge of skateboarding's history or experience of its culture. Sharing our expertise, understanding and passion for skateboarding is really important

Darren Pearcy, Boneless, The Boardroom, Leicester. Photo: Chris Johnson
One of the criticisms about the growing professionalisation of skateboarding that things like your job represent is that people worry there will be no room in this new skateboarding landscape for the kind of carnage enshrined in the events you grew up attending and the ones that inspired them. What's your take on that?
The International Olympic Committee, National Olympic Committee, International Federations, and National Federations: these aren't words that have been synonymous with skateboarding throughout the decades. I'm not surprised people have questions around how their involvement may affect the integrity of skateboard competitions, events and skateboarding in general.
Personally, I believe skateboarders are holding the keys to the car in regards to Olympic skateboard competition. There's a considerable amount of skateboarder representation and experience at World Skate (Skateboarding's International Federation) within each country's National Federation and across the hundreds of skateboarders competing. Collectively we have a responsibility to steer it in a direction that ensures as much of the good stuff we experienced at skateboarding events of the past remains intact.

Personally, I believe skateboarders are holding the keys to the car in regards to Olympic skateboard competition

Can you give a few examples of bigger events that you've attended since starting this job and how they stand up?
I've witnessed the beautiful chaos of skateboarding competitions of the past at Olympic qualification events. Admittedly, I'm not seeing chaos on the scale of Liverpool's iconic Night of The Living Dead events, but these more recent Olympic qualifiers haven't been sterile either.
I've seen thirteen-year-old Misugu Okamoto spin a 540 and then jump straight into a mosh pit, to celebrate winning a competition in China. I felt a room shake with shouting, tail whacking and applause as Nyjah rolled away from a nollie heelflip back lip down a handrail. Most importantly, I've seen skateboarders from across the world hang out, skate and have a good time together.
Don't get me wrong, it can be challenging at times, there are a lot of people competing in these events. There's no option but to put plans in place to ensure everyone gets their practice and competition time in. Adding too much process into anything isn't going to help create beautiful chaos. You've got to find a balance if you want that. For me, a critical factor if you're looking to put on a solid skateboarding event is having good skateboarders and people involved. There's certainly an abundance of those. It's pretty hard to not get excited when you're watching the likes of Oski, Candy Jacobs, Jaako Ojanen and Sakura Yosozumi on a regular basis.
The park and street World Championships in São Paulo, Brazil last year are a good example of how Olympic events can stand up to what came before. Great parks, amazing skateboarders, respect for the culture. We'd skate the competition in the day and session spots like São Paulo's Cave Pool in the evening. It was a lot of fun.


Cleaning the floor with John Bell on a Unabomber Trip, Malaga . Photo: Chris Johnson
At this point, we probably ought to clear up exactly what your role is – can you tell us what your duties encompass? 
The original aim of the role was to plan and implement the effective delivery of Skateboard GB's UK Sport Aspiration Fund award by supporting all Skateboard GB Team activities. Ensuring that the team had the best opportunity to qualify for the 2020 Olympic Games in Tokyo. Like many new roles, it wasn't entirely apparent what that would mean in practice as the job hadn't existed previously within British skateboarding.
My duties involve a lot of traditional skateboard TM tasks. Supporting the team in any way I can being the leading and most important objective. Organising flights, accommodation, travel logistics etc. Lots of the usual things people would associate with a skateboard team manager. However, there's also a host of other elements which aren't so obvious including games time planning with the British Olympic Association (Team GB); exploring ways in which we can support both our team and UK skateboarding as a whole with UK Sport; anti-doping training with UKAD; physical and mental health support with the English Institute of Sport; recording and analysing competition data; competition strategy and planning; marketing and P.R. Every day is different, which is great.
What does an average working day look like?
That depends on if we're preparing or travelling to a qualifying competition. During that time, I'm focusing on the team and ensuring that they have everything they need. Competition days usually start around 6am and end whenever you manage to get to sleep.
The team will either be competing or practising at different times of the day or night. For example, I might spend a couple of hours with Sky and her father Stu after breakfast as she practices and competes in women's park, move over to Alex Decunha in men's street in the afternoon and then go back to the bowl to spend time with Jordan in men's park in the evening. In between any of that, I might have to attend a competition meeting, liaise with World Skate staff or just deal with whatever the day throws at you really.
Skateboard GB has no central working location or office. When I'm not at events (which has been most of this year), I'm usually at a desk chipping away at some of the types of things I mentioned earlier.


Darren Wallrides to Fakie, The Blue Dog, Derby. Photo: Andrew Horsley
How has that changed post-COVID-19? 
It's changed things considerably. At the beginning of March, we were preparing for season two of qualification and counting down the days until the games. Before Coronavirus took hold, we were just weeks away from the National Championships at Graystone Skatepark in Manchester. That event was to be followed by trips to Peru, China and America. April through June would be the final push and qualifier heavy.
We would find out who had officially qualified for the games in June and then if successful, be flying out to Tokyo mid-July. As we crept closer to the Nationals, it became apparent that upcoming events were likely not to happen due to the Coronavirus pandemic. We postponed The Nationals, The International Federation World Skate postponed all of their qualification events and finally, the International Olympic Committee postponed the Olympic Games until 2021.
Of course, it's disappointing that what we were preparing for fell apart so abruptly. Still, we're dealing with something that's so much bigger than skateboarding. In all honesty, I see the postponement of the games as a bit of a blessing for us. We've all learnt a lot in the last year, having some extra time to effectively use that experience before having another go will hopefully be advantageous going forward.

I see the postponement of the games as a bit of a blessing for us. We've all learnt a lot in the last year, having some extra time to effectively use that experience before having another go will hopefully be advantageous going forward

Giving Matlok Bennett Jones a helping hand, Scotland. Photo: Chris Johnson
Inevitably, people are going to wonder what your qualifications are for this job – can you talk us through what you'd been up to job-wise in skateboarding before taking on this role?
Previous to taking on this role, I worked at Rollersnakes. Rollersnakes is one of the longest-running UK skateboard shops. It was founded by Paul Haynes in 1985 from the boot of his car and went on to become one of the largest skate shops in Europe. Over the years, Rollersnakes has made an enormous contribution to British skateboarding. Events, competitions, signings, teams, sponsorship, trips, brands, videos, magazines, catalogues, product design and production. Rollersnakes has done it all. The mini ramp in the old Nottingham shop even makes an appearance in Blind's Video Days.
I started working at Rollersnakes in 2007 and left last year. During my twelve-year stint, I was lucky enough to be involved in nearly every aspect of the business. I started in the Derby shop, spent some time in the warehouse, moved onto the phone lines (when mail order was still a thing) and then became a buyer. The main aspects of work I did at 'Snakes which contribute to my current role were that of Rollersnakes, Unabomber and Heathen (which are owned by Rollersnakes) team manager and more recently my position as Marketing Manager which I was doing for the last five or so years before leaving.
The experience I gained from those two roles was vast. As the team manager, I got to work, travel, and support some of the best UK skateboarders of the last ten years, as well as help introduce some new faces to the UK scene. As the marketing manager, I had the opportunity
to work closely with skateboard distributors, riders, brands and media on various projects. Rollersnakes provided me with so many great opportunities. It played a huge part in shaping me as a person as well as giving me a platform to learn the ins and outs of the UK skateboard industry.


Unabomber/Heathen/Rollersnakes Crew, Stourbridge. Photo: Chris Johnson
Was the thought of switching from a defined role with a history to something like this where there is little to no precedent in terms of what the job will be like daunting? Especially as you have a family to support… 
Absolutely. The decision to leave Rollersnakes after all that time was not an easy one to make. I was comfortable in my role, and it suited our family dynamic. Being comfortable was the main reason I left though. I felt like I'd learnt and contributed a lot to the business over the years. I wanted a new challenge and desperately wanted to learn some new skills.
When the job advert went out for Skateboard GB team manager, it appeared to offer both of those things. As you mentioned though, there was no real indication that the position could put me onto a sustainable career path, which is worrying when you've got a family to support. However, my wife Becky and I decided that what I could learn from doing this could be huge in terms of my personal development and growth. Based on what's happened and what I've experienced so far, it was the right decision.


Darren Pearcy with the Rollersnakes Team at Converse Fix To Ride, London. Photo: Chris Johnson
Can you break down the criteria used to select the five skaters to potentially represent GB at the Olympics?
Skateboard GB selected the five based on their competition performance history at national and international events and their potential to gain qualification points to reach Tokyo. As we improve our understanding of how to select skateboarders who want to be a part of the Skateboard GB team in the future, this process is certain to evolve.
With the Olympics now delayed until 2021 – what are the skaters who make up Skateboard GB expected to do in terms of their responsibilities as funded athletes?
We don't expect the team to skate or do much differently then they would typically right now. That being said, the world has obviously changed post Coronavirus, which affects what "typically" looks like. We want everyone to stay happy, healthy and enjoy skateboarding as it can currently be done. Of course, everyone has an individual approach and ambitions. We're doing everything we can, to support those personal goals.

Skateboard GB selected the five based on their competition performance history at national and international events and their potential to gain qualification points to reach Tokyo

Have all the events that you and the team have attended so far been World Skate sanctioned events? Is that crucial to Skateboard GB's involvement in them?
During season one of qualification, I attended SLS (Street League) in London, the Dew Tour in Long Beach, the International Skateboarding Open in Nanjing and the World Championships in Sao Paulo. The STU Open in Rio de Janeiro (November 2019) was the first event of season two and the last we attended before the pandemic. All of these events are sanctioned by World Skate. The team earn points by competing in these events during the Olympic qualifying period. That began on January 1st, 2019 and ends on June 29th, 2021. This period has been extended due to Coronavirus, originally it would have completed in June of 2020.
A skateboarder can enter a World Skate sanctioned Olympic qualification event if they have been entered by their country's National Federation: Skateboard GB, USA Skateboarding, Commission Skateboard France or CBSK in Brazil for example. Skateboard GB can also invite and enter non-aspiration funded British skateboarders into World Skate sanctioned Olympic qualification events. We have to adhere to our country quota places, though, which is three per gender and discipline.
During 2019 Joe Hinson, Jordan Sharkey, Aaron Jago, Lola Tambling, George Poole, Paul Luc Ronchetti, Roxanna Howlett, Helena Long and Bombette Martin all represented Skateboard GB at various season one competitions. The decision to invite and enter any skateboarders who are not part of the funded team is made by a Skateboard GB panel. Unfortunately, we don't have the resources to cover the expenses of the non-funded skateboarders.
Bombette Martin is an excellent example of this. Bombette's family has committed to getting her to as many qualifying events as possible. I met Bombette last September, and we've formed an excellent relationship since then. We're doing what we can to ensure she enjoys her journey and gets the support she wants.


Darren Pearcy, Frontside Rock, Birmingham. Photo: Chris Johnson
What have you been up to while you've been out at these events?
First and foremost, it's about supporting the team: before, during and after practice and qualification. That can involve anything and everything that happens on any given day. Providing emotional support, discussing and planning runs, general competition strategy, helping with injuries, liaising with World Skate staff and sharing information. Making sure everyone has eaten and has enough to drink. Anything that the day throws at you. Everyone on the team generally has separate practice and competition time. For example, as Sam is ending his hour or so of practice or competition, Alex will be starting his. Supporting everyone quickly takes up a full day.
I do sometimes get the chance for a little skate tourism though. If we manage to get out to an event a couple of days prior or a particular competition day finishes early, we will head out and hit some spots. We squeezed in a trip to Washington Street during the Dew Tour and hit the legendary Sul Bowl in Rio during the STU Open. I'm stoked to have been able to check them off the skate bucket list. Something I might never have got to do if I wasn't lucky enough to be in the role.
Aside from the obvious participation in wider skate culture by entering these events as 'Skateboard GB riders' – is there an Olympic component to them all? As in, do results and placings at all the contests you have attended together so far go towards rankings that will have relevance to the Olympics?
Yeah, there's an Olympic component to every contest we attend. Each time one of the team enters a contest they accumulate points, which go towards their overall World Skateboarding ranking. The higher you place in a competition, the more points you accrue. For example at a World Championship 1st place will get you 80,000 points, 2nd 64,000, 3rd 51,200 and so on. It goes all the way down to about 250th place, where you will score 722 points. The current World Skateboarding Rankings can be found here.
There are five contest types – World Championships, Pro Tour, 5 Star, Continental and National Championships. Each style of event scores a different amount of points. As I just mentioned a World Championship 1st place finish will get you 80,000 points while a 1st place finish at a National Championships will score you 3,330. The weighting of the points at each event is based on their World Skate deemed importance. Regardless of the amount of points awarded at any event, it obviously helps to place highly if you're hoping to qualify for the Olympics.
There's a lot more information on how it all works over at the website for World Skate.
Has the postponement of the Olympics had any negative effects on your job role? Maybe in terms of the funding that allows you to do it, or the longevity of it as a job in the post-Covid world?
That was quite a worry initially. My contract with Skateboard GB originally ran from May 2019 to September 2020. Ending one month after the Tokyo games had passed. Once the news broke that the games would be postponed a year, it obviously got me thinking about how we'd fund the role through 2021. Fortunately, James and UK Sport figured out a solution which means I can stay in the position until next year.

Daz with Harry Raffle and Nick Roberts, Derby. Photo: Chris Johnson. Inset Below – Darren Pearcy, Sam Beckett, Alex Hallford, Sky Brown, São Paulo. Photo: Stewart Brown
Where does the funding that pays your wages come from? Skateboard GB is a non-profit making enterprise right?
That's right Skateboard GB is a non-profit. The funding which pays my wages comes from the aspiration fund, which is provided by UK Sport, the government agency responsible for investing in Olympic and Paralympic sport in the United Kingdom.
Have you been in constant contact with the riders much throughout lockdown? I saw that Jordan still managed to go well and truly 'viral' at Hackney Bumps regardless of the world looking like it was ending…
Yeah, I'm in contact with the team every week. Either by phone, text, email or video call. As lockdown rules started to ease I've seen Sam, Jordan, Alex and Alex in person, which is nice.
Going skateboarding anywhere but a local kerb was pretty tricky at the start of lockdown. We obviously wanted everyone to keep skating, but unfortunately, with outdoor and indoor skateparks being closed, it was challenging. You've got to respect that there's something a lot bigger than skateboarding at play as well. Staying healthy and keeping others safe is the main priority. Now parks have reopened, it's become easier to get out and skate something legit.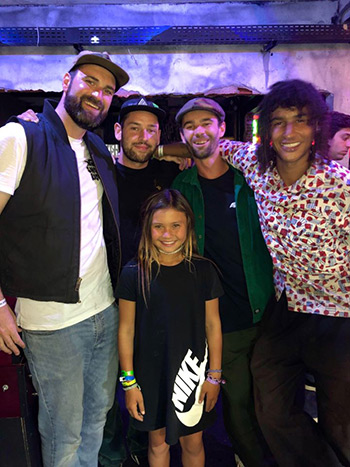 I think initially the team enjoyed the change of pace, to be honest. Fewer events and less international travel mean there's more time to just walk out of your front door and enjoy skating what's in front of you.
Can you give us a breakdown of the Skateboard GB team riders and how your relationship has developed with them since you started the role?
Other than Alex (Hallford) who rode for Unabomber when I was TM, I'd only ever met or seen everyone else at events here and there over the years. I'd never met Sky and her family. I was a bit nervous about getting to know everyone properly to start with, to be honest. I think that came from trying to figure out the best way to go about supporting everyone. Although some elements are similar, Olympic qualification is different from going on your regular filming trip.
Now, in hindsight, the worry was pretty ridiculous, because everyone is so easy going and fun to hang out with. As I've travelled to more qualification events, I've begun to build a picture of how to best individually support everyone. Something that is ever-evolving and changing.
Being a big fan of transition skateboarding it's been amazing to get the opportunity to travel and get to know Sam, Jordan and Alex (Hallford). Collectively they embody all the things I love about skating transition: style, spontaneity, speed, flow and creativity.


Jordan Thackeray, Alex Hallford and Sam Beckett. Flying to Sao Paulo, Brazil. Photo: Darren Pearcy
They all have different styles and approaches, but I feel like they complement each other perfectly when you watch them together during a session. I remember having to check myself when we were out in Rio last November. How am I currently in Brazil watching three of the best transition skateboarders in the world rip one of the oldest bowl's in the country, which just so happens to be overlooking the sea? It's a lot of fun being around them, and they've really helped me as I've settled into this role, something I'm super grateful for.


Alex Hallford, Backside Disaster. Ipanema, Rio de Janeiro, Brazil
Alex Decunha is somebody I've been aware of for a long time. When I was travelling to those UK events we discussed earlier, Alex was nearly always there. He's been a staple of the competition scene forever, and he's still only twenty-two. Decunha is a lovely guy who can rip every type of terrain. That bowl session in Brazil I just mentioned, he was not afraid to get involved. He absolutely adores riding his skateboard and does so on his terms, something I really admire. Alex qualified for the SLS World Championship semi-finals in Sao Paulo last year (which is not an easy feat). It was pretty special sharing that moment with him.

Alex Decunha, SLS World Championships. São Paulo, Brazil
I first met Sky Brown and her family at the Dew Tour in Long Beach last May. Unlike the rest of the team who's selection was based around a combination of their previous competition results, experience and talent, Sky was invited to represent Skateboard GB purely based on her talent and potential which was a great call by Lucy, as Sky's skateboarding has rocketed over the last year.
Sky might only be twelve, but she's wise beyond her years. She has a clear idea of what she wants to achieve and how she's going to do it. She's edging closer to her dream of qualifying for the Olympic Games and was on course before the pandemic. It's been cool getting to know Sky, Stu, Meiko and Ocean. I really like their family dynamic. Sky's having a lot of fun and realising her dreams at the same time. I think that's pretty rad.


Sky Brown, Oi STU Open, Rio De Janeiro. Photo: Darren Pearcy
You posted something on your Instagram recently about your own personal struggles with skateboarding since becoming a father. Can you explain in a little more depth what you meant regarding your confidence and willingness to push yourself on your board diminishing somewhat since parental responsibility took over?
My daughter Robyn was born in February of 2017. Although I knew that it would change the amount of time I would spend on my board, I didn't expect it to affect my confidence the way it did. Robyn was quite ill for the first six months of her life, so skateboarding just wasn't a priority. I continued to skate, just a lot less, and when I did, it never felt like I was really pushing myself. I didn't want to risk getting hurt (which would affect my ability to be a dad) and quite frankly I didn't have the mental or physical energy to give it my all.
As time went on, this led to a massive dip in my skateboarding confidence (something I'm still working through now). The most upsetting part of that has been struggling with staple tricks that I had in the bag. I'm cool if I don't learn anything new for a while, but when some of the go-to's start slipping, it's pretty rough.


Darren Pearcy, Feeble Grind, Bournebrook DIY Birmingham. Photo: Chris Johnson
Did you find yourself having less fun prior to overcoming that feeling? Why?
Definitely, I felt like I was going through the motions with skateboarding, I wasn't really enjoying it. And what's the point if you're not enjoying it? I don't want to ruin skateboarding for myself by making it a negative experience. I'd actually just find myself filming or chatting to people more when "out skating". I think that was to help mask the fact that I was really struggling with the act and didn't want to admit that to myself. If I dropped in, I'd have to face that, and I didn't want to.
What was the catalyst to overcoming it and starting to feel confident/comfortable again?
I'm still working on that, but a combination of lockdown and Robyn's routine becoming more dialled as she's got older. Obviously, I'm not travelling with work as much at the minute either. Contrary to what some people might think, I don't get many opportunities to skate whilst I'm away. There are fewer distractions (because of Coronavirus) in some ways right now too, which has given me more time to concentrate on skating. During the start of lockdown that was mainly solo sessions at kerbs, which was perfect. Nobody else around, no expectations, low risk.
It's exactly what I needed to start getting my board control back and build confidence. As lockdown has progressed and parks have reopened that's evolved into sessions with my friends. People who know how to wind me up just enough to try and land stuff, ha. I've been skating a lot with Bambi, Gaucher, Tom Ball, Nick Roberts, Jay Bex and Tom Carr recently. I've even managed to shoot some new photos for this interview with CJ and Si Bernacki. Nothing gnarly but it's all helping to get me back to a place where I want to be with my skateboarding. Most importantly, I'm enjoying it!
Do you think this also might have had something to do with working a job where you're constantly surrounded by unbelievably talented skaters too?
I've skated with or been around talented skateboarders for the longest time now, and yeah I do and have judged myself on their ability. It can be a really positive thing, especially when you're skating well. I've done a bunch of tricks over the years that I might not have done if I wasn't skateboarding with great skateboarders.
The flip side of that is the realisation that you're not on that level and getting frustrated because you're not keeping up. Even my closest friends like Bambi, Nick and Gaucher are or have been sponsored at some point. It's not something I've given a lot of thought to before, but I think that could be one of the reasons I'm so hard on myself sometimes.

Darren Pearcy, No Comply To Tail, Voodoo, Sheffield. Photo: Simon Bernacki
I think one of the problems of the notion of a NGB for skateboarding in the UK has been a sense of people not really understanding the purpose of having one, nor much visibility as regards what that NGB is doing for skateboarding. During the Covid 19 crisis though, this changed and it became very clear that Skateboard England/GB were actively involved in working alongside the government to draw up official safety equipment, develop signage and communicate to skaters/local authorities how to go about reopening and then using skateparks again. Did you have any involvement with this?
Yes, I did. As part of a consultation with some members of the UK skateboard community, I helped draft the initial safety measures that indoor and outdoor skateparks may have to consider before reopening. James used that information to lobby with the DCMS to get outdoor and indoor UK parks back open and included in the government's messaging. The DCMS is the Department for Digital, Culture, Media and Sport and is a department of the UK government. To be honest, if that work hadn't been completed and signed off by the government, parks across the UK might still not be officially open right now.
We've also recently released the UK's first "Design and Development Guidance for Skateboarding". The document aims to support the creation of skateparks and skateboard facilities, through advice on design construction and build. It's taken over a year to create, with contributions from numerous individuals from within the skateboard community as well as broader sports bodies such as Sport England. We're hoping the document will help to improve the future planning and building of skateable spaces in the UK. It's a big step towards what we hope will be more great skateparks in the country.

I personally don't look at Skateboard GB as a National Governing Body, we're just a group of people who want to help support and develop skateboarding in the UK

We're aware that the notion of a National Governing Body or Federation in skateboarding is still relatively new and mystifying to people. UK skate shops, parks, brands, distributors, magazines and the community at large have done and continue to do an amazing job of nurturing and developing the UK scene. Hopefully, by supporting the UK skateboard community with the types of work I've mentioned above, we can add further value to it. I personally don't look at Skateboard GB as a National Governing Body, we're just a group of people who want to help support and develop skateboarding in the UK. That aligns with my personal values and something that I always tried to do during my time at Rollersnakes. I'm enjoying the opportunity to contribute on a broader scale and in different ways now, it's one of the main reasons I wanted to be a part of Skateboard GB.


Darren Pearcy, Frontside 5-0, Derby. Photo: Tom Quigley
How much data is involved in your role? What does said data consist of and what are you using it for?
When I started the job, I didn't immediately think that data analysis would be something that I would be doing a lot of. However, as I began to get my head around how and what we had to work with, I realised that recording some data might be beneficial. I did a fair bit of spreadsheet work whilst at Rollersnakes, just the usual stuff really like tracking campaigns and sales performance. I figured why not just start recording what happens at qualification events.
It's continually a work in progress, but I try to log all the runs (mainly from the finals) of each discipline. I record the number of tricks and then break them down into categories. Explore commonalities and figure out some percentage stuff, like course coverage and the number of obstacles skated. I'm the first to admit that it doesn't seem a very skateboarding thing to do. Still, it's really helping us understand what's happening in competition.
One of Skateboard England's stated purposes right back to the beginning was to reinstate the UK Championships, which they did successfully in 2019 but obviously, it was cancelled this year – is it on the agenda for 2021? What about contests more generally? 
Yes, it's on our agenda. We're hoping to hold a National Championships at the start of 2021. We're exploring how that might work at the moment. It's tough to commit to anything right now. As far as the Olympic qualification circuit goes, we believe World Skate is also looking to get things moving at the start of next year, but that's also unconfirmed. Like most things in life right now, nobody can be 100% certain of anything, especially when it comes to large-scale events and global travel. There's definitely an element of waiting to see what happens (hopefully a vaccine) and having our fingers crossed that the world can figure out a "new normal" in the future.
Okay Daz, I think that's almost enough. Can we end on a question relating to the strategy for both your role and for Skateboard GB as we move forwards? The rescheduled Tokyo Olympics are still part of the plan, right? What else?
The Tokyo Olympics are still on the agenda. We continue to plan and prepare for the rescheduled games, which are scheduled for July of 2021. We're also currently planning for the 2024 games in Paris and beyond. We've recently undertaken a consultation project headed up by Lucy Adams and Sarah Rowell. That will hopefully help us define how to best support UK skateboarders whatever their aspirations, whether that be Olympic or not. We've been working with a cross-section of skateboarders from around the country to help us explore that. It's an exciting piece of work, and I'm looking forward to seeing how it develops moving forward.
The Tokyo Olympics are still on the agenda. We continue to plan and prepare for the rescheduled games, which are scheduled for July of 2021. We're also currently planning for the 2024 games in Paris and beyond

Darren Pearcy, Slash To Fakie, Livingston. Photo: Matt Clarke
Any last words? 
If you'd like to be part of the Skateboard GB conversation, please drop us an email or DM on one of our social channels. We're always happy to talk. Just because I don't get the opportunity very often, I'd like to thank a few people for their help, love and support:
Becky, Robyn, James Hope-Gill, Lucy Adams, Neil Ellis, Sam Beckett, Sky Brown, Stewart Brown, Jordan Thackeray, Alex Hallford, Alex Decunha, Bombette Martin, Mary Apple, Ben Hollis, Helen Rawlings, Bambi, Chris Johnson, Mike Wright, Karen Geraghty, Paul Haynes, Fraser Buchan, Tom Crofts, Toby Batchelor, Nick Roberts, Harry Raffle, Zeyad Ahmad, Fraser Doughty, Jim Harahan, Adam Gaucher, Tom Ball, Andrew Horsley and Ben Powell. Thank you.
Rest in Peace Jeff Grosso. X

---
Thanks to Darren for his time. We hope that this interview has answered your questions about the infrastructure and organisation behind this new chapter.
Other interviews by Ben Powell: Mike Manzoori / Long Live Southbank / Elijah Berle / Nick Jensen / Tyshawn Jones / Jagger / Brad Johnson