Read our exclusive interview with our old friend PIn. Alexander 'Pin' Osborne is a legend, I have heard more folklore surrounding him from friends than anyone. Pin stories and quotes permeate our days and could easily fill many more pages. When I first bumped into Pin, almost literally, he was powering around a Cantelowes jam wearing brown dickies and a white t-shirt. I was booting some kind of flip trick about over the hip and we nearly collided. "Get out of the way you saggy panter" were the first words I heard him say.
Saggy panter I was and Pin was running what is now the global skate uniform way back then, maybe eighteen years ago. My trousers have got tighter, Pin's attitude a lot looser "Chicken Bone Nowison" and I'm glad to say we are friends. What I'm trying to say is he's been doing this shit well for years and he's still doing it and he's not slowing down anytime soon. Read on to find out more about a national treasure…
Words and interview by Jacob Sawyer. Portrait: Mark 'Fos' Foster
Yes Pin! Every time I hear of or from you I get to thinking about the idyllic life you have carved out for yourself. Describe an average day in the life of Alex Osborne…
Wake up at 5 am, burn my eyes out with Instagram and email, get the coffee on, shower, foam roller, go skate at Wherrytown for an hour, go in the sea for cold therapy, come home, get Coffee the dog, go to work, finish work, walk Coffee, come home, make Coffee, shower, foam roller, go skate Wherrytown, come home, watch Jaws.
Has dog ownership affected your routine?
Having Coffee the dog has made my life complete, he is a true friend and has helped me through so much, I couldn't imagine life without him.
Have you ever had a Christmas day dip in the Ocean?
Many a Christmas morning has started this way. Looking forward to doing this for years.
You recently visited America for the first time in a while where did you stay?
With Fos.
It was nice to see you punching Biebel's punch bag. What were the highlights of staying out there?
The whole trip was epic, meeting amazing people and skating amazing spots. Going to Soletech and being in the Emerica and Altamont department, I was hyped big time, everyone there was amazing! High fives to Danny, Othee, Minor, Bucky, Yogi and August. Hitting Biebel's was a rad way to wind down from an amazing day. I went to Baker Boys distribution and checked out all the offices and products, skated the park, met Shane Heyl,Eric Ellington, Neen Willams, Brandon Szafranski, and the Baker Boys warehouse crew…so tight! Fos hooking it up to get in the New Berrics as Jamie Thomas was filming his battle commander and was the key master!
Who did you see skate out there that blew you away?
Patrick Franklin, Adrian Adrid, Casey " SHARK ", Neen, Jamie Thomas, Garret Hill, everybody ripped.
Do you think another visit will be on the cards?
Damn right!
What was the best spot/park you skated out there?
Lincoln, Stoner plaza, Baker Boys and the Berrics
How was it appearing on Fos FM?
I felt honoured and scared, gnarly being asked questions on the spot but hyped to be on that show. It rules.
The Side Effects Of Urethane was an artists collective responsible for a series of art shows show casing the talents of a large variety of artists affiliated with skateboarding. This movement was responsible for the first set of ledges which landed at Southbank all those years ago. You were instrumental to all of these shows. How did it feel to be involved and can you describe your involvement?
I was honoured to be part of helping Toby Shuall's vision to become a reality using my carpentry to construct skateable installations. The first one was insane and rad to skate and it laid the foundations for getting Southbank to listen to the skateboarders. The second one was way more 'pro' to show and give Toby's pottfolio a greater spread to show the South Bank centre. This in turn made the third installation more accessible to the whole of the skateboard community. LONG LIVE TOBY!
Just before the first Side effects show your voice was heard and a park you designed was realised at the bottom of your hill, how did that feel and was it a struggle to make that happen?
The whole experience was like the scene out of Jaws when Chief Brody and Hooper are trying to convince the Mayor to shut the beaches. Hooper's laugh at the reaction to "like to prove that wouldn't you? Get your name in the National Geographic" is how I felt a lot in making that park a reality
The experience of building that first park, designing and building the skateable spaces we enjoyed at that series of art shows and your day to day job has culminated in the brand new park you have just opened. You must be stoked, has it lived up to expectations?
I am so hyped with Wherrytown. I can't believe it's there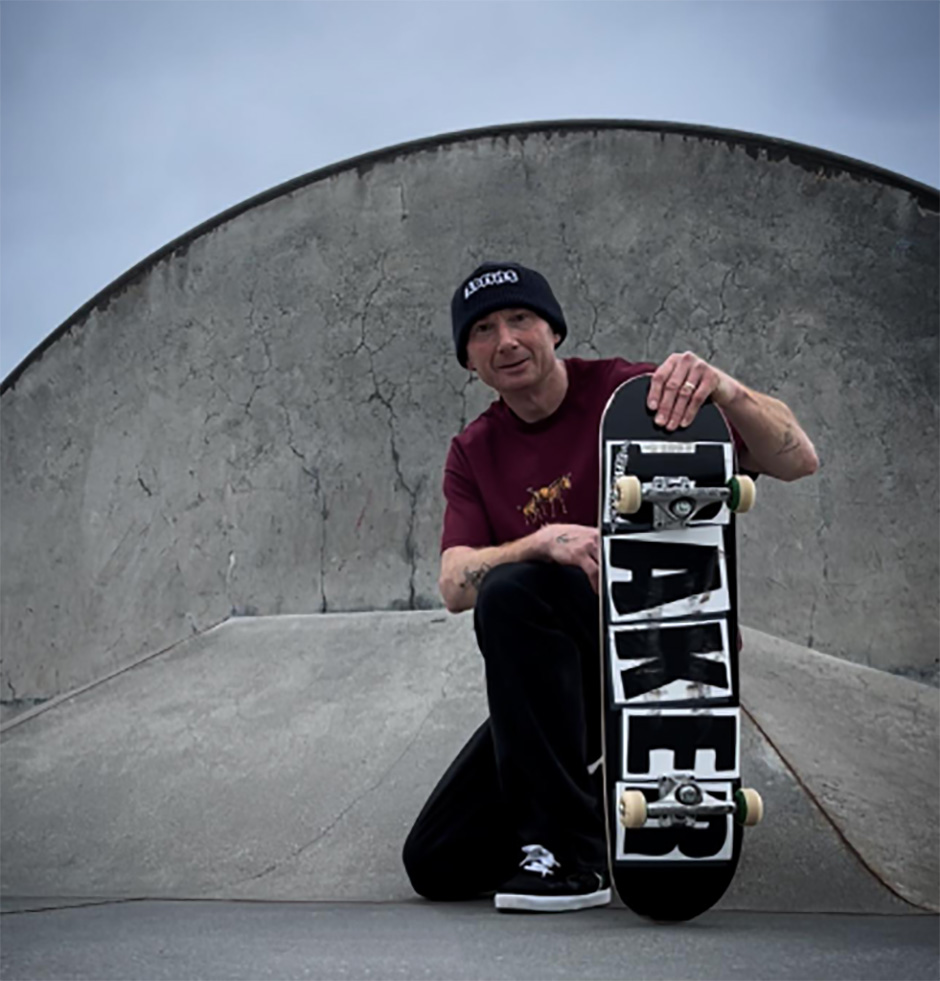 Alex 'Pin' Osborne post wallride nollie out at Wherrytown
Was it a struggle to make this one happen? Whose help kept the project moving?
The foundations were already set with the first park already in place. Going from the popularity of that and the fact that the park was already there and started to deteriorate. We were motivated to re-group when funding became available. We worked with the Town Council to get the funding in place and were able to build a park beyond our wildest dreams.
What must haves were on your list?
I had a blueprint as to what has stood the test of time. The old World hip at the World Park, Stoner kickers, raised sections, wallrides and blocks with ends
Was Stoner an influence?
Getting to Stoner and taking measurements was a huge help and put things in perspective
You saw new talent flourish at the old park with the rainbow rail, is it evident already that this new space has lit a fire under a new Penzance generation?
Wherrytown locals are destroying it since day one. The progression in a week is unbelievable. They enjoy skating there.
Many parks have appeared along the Cornish coastline in the last ten years, how have you seen the scene change because of this?
The scene has got so much bigger and more positive, with the standard of skating becoming really high.
Describe how different things were when you were the proprietor of Pin's, was it fun having your own shop?
The scene was so small, me and Ben Bodilly were on the streets daily. Just us skating and talking wishing the scene was bigger. The opportunity arose for me to get the shop and promote the very small skate scene. It was 1992! 21 years ago. I remember the first Girl boards coming in and having them all fixed on the wall. That was rad "you got the floor"
You are renowned for being a loyal fan of both Heroin and Emerica. What is it about these two companies that inspires and aids you as a skateboarder?
Both 100% skater owned and run. They make the best shit that I need. Fos makes my perfect board. Emerica is high quality footwear and work wear that is made for skating. Thanks to Tom and Wrennie at Soletech UK and Fos and Nick at Power Distribution for dealing with my madness. You rule, thank you
Were you excited to see Made Chapter One? What did you think?
Hyped big time and was not disappointed by the skating/filming/editing/music. So stoked. I watch it daily. It was rad seeing it on a big screen with Wherrytown locals. That ruled and meant a lot. Thanks Tom
I know you are very specific about your setup and what shoes you skate in. Explain the intricacies of your set-up/shoe requirements…
Heroin 8.125 Video Nasty Foz Pro Model board 4 Emerica, I made Wherrytown stickers, MOB Griptape, Stella supply 7/8 fixing bolts, Independent 139 forged titanium trucks, Bones bushings medium (yellow), Spitfire formula four 101a 51mm wheels, Bones Swiss Bearings-shields off. As for shoes the Reynolds which is the best skate shoe ever made. Lightweight flexible cup sole with ultimate board feel. Breathable tongue and medial side wall. Built in sock liner.I love the reflective materials and premium suede.


Cornish corner stone Pin in noseblunt slide, Wherrytown, Pinzance. Photo: Leo Sharp
What musicians have been soundtracking your daily existence of late?
Morrissey – Bona Drag. The best of Nick Cave and the bad seeds, Talking Heads – naked, The Doors – LA Woman, Brian Eno – Another Green World
Yourself and Pulman made the pilgrimage to SF many moons ago, tell us a good story from that trip…
Chriiiist. Chris Pulman and I had nowhere to sleep one night so we decided to sleep at Fort Miley. We walked up past the hospital in the dark. Chris had a small torch, we were pretty sketched thinking 'what was that?' as Chris moved the torch beam around. Christ, it was hilarious. We put our sleeping bags and backpacks in the well and got a piece of ply to block up the entrance to stop skunks coming in. Absolute madness and amazing at the same time
Tell us a good Fos story…
Fos is living the American Dream. He goes to LA gun club, he walks in and everyone is like, hey Fos: the usual. He signs in and gets handed an AK47 and 2 boxes of ammunition and turns around to me with the biggest smile on his face.
What park would you say was your favourite in London?
Mile End.
Can we expect to see you down here soon?
It's been way too long. Hope to in early December.
You have maintained your skateboarding, and are still progressing and learning. Do you have any tips?
I love skateboarding and need it in my life. I've been so fortunate with no serious injuries. I look after my body by
stretching, drinking lots of water, and eating lots of protein. I'll do what is necessary to skate again the next day. Progression comes from being on your board as much as possible and to be able to mess around with stuff. There is stuff I want to get back and also new stuff I want to learn. I skate a lot on my own so I can have the clarity to
concentrate on what I want.
Top 5 video parts of all time?
Tommy Gurrero – Future primitive
Mark Gonzales –Video Days
Heath Kirchart – Sight Unseen
Andrew Reynolds –Stay Gold
Brandon Westgate – Made
Top 5 skate photos of all time?
Mark Gonzales – sequence and Olly the Gonz at EMB, Thrasher interview '87 MOFO.
Mark Gonzales – front side pivot , Alcatraz article '88 BK.
Andrew Reynolds – nose slide big spin out, Skateboard Mag interview 2010 ATIBA.
Andrew Reynolds -Kickflip -Made in UK Tour – Sidewalk Mag – Sam Ashley -2013.
Brandon Westgate, Treflip, Thrasher cover, 2013 Burnett
Top 5 board graphics of all time?
Tommy Gurrero – Flaming Sword, 1986.
Mark Gonzales – colour my friend in 1988.
Toy Machine – Fists 1997/98
Heroin – Good Shit 1988.
Heroin – DMODW Skull 2013
Do you have a message for Doctor Martens?
Thank you for making an air-cushioned cupsole leather shoe. Put more production into the UK!
I think my favourite Cornish story involves a thoughtfully modified Seagull. This seems like a pretty good stage for the weight of this one, could you re-tell it?
Christ, I heard it when I was serving my apprenticeship more than 20 years ago. Someone has caught a seagull and superglued action man boots onto him. I have never seen the gull in person but the dream is alive and well.

Thanks for that Pin, you are an inspiration and a powerful human being. Can you sign off with some advice for the kids?
Go skateboarding, look after your body, buy skater owned brands, be careful with drugs and alcohol, use litter bins and go skateboarding. Thank you skateboarding! Pin.
---