We invite you to take a closer look at the Clown Skateboards x Tygar Miles Smith board series and to find out more about our staff member Tygar who created them. We conducted the following interview days after the Thank You Very Much Ladybird show Clown organised to celebrate the launch of this board series…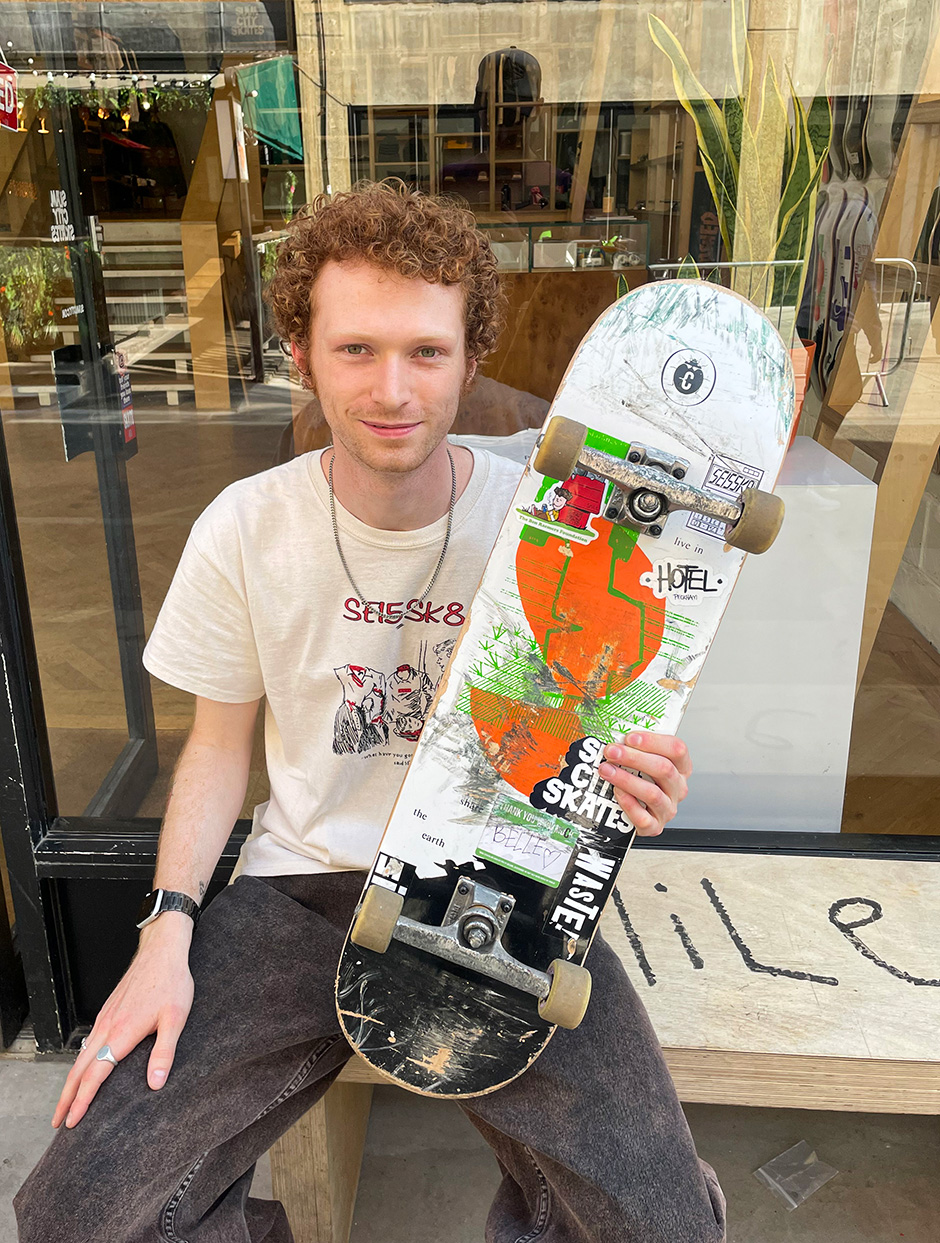 words and interview by Jacob Sawyer. Tygar Miles Smith outside our East London shop. PH: Cam Barr
Tygar Miles Smith is the artist behind the new board series we will soon delve into. He is also an integral part of our shop staff. Tygar has been manning the counter at the Slam shop for close to five years now. We are grateful that his warm welcome has become part of the woodwork here, he has set up more first boards than most, and thankfully plans to continue doing so while pursuing his creative calling.
Skateboarding first entered his life at eight years old when a thoughtfully featherlight Element set-up was gifted to him by his father, and he recalls the Nike SB video Debacle, and Yeah Right being on rotation at home. Having a dad who skates meant a quick immersion in the culture he continues to contribute to. He even remembers joining his dad on a trip to our old Neal's yard shop to buy our City Of Rats DVD. Early morning family trips to Stockwell filled many weekends until Peckham Rye became the firmest of fixtures, the park that raised him, a park he plans to celebrate further this coming summer. Having people on board who love skateboarding as much as Tygar does makes running a shop a whole lot easier.
Tygar's role at Slam has been concurrent with his studies, from beginning his foundation course, to the degree he is soon to finish. It's been amazing to watch him dig into his process and evolve his work this whole time, fuelled by the discipline he has employed. Producing a piece of work each day for years is quite a remarkable achievement and this was the focus of his recent Thank You Very Much Ladybird show at School of Skate in Peckham. This contained all of the reconstructed Ladybird books he has produced over a four year period. It was this body of work and process that captured the imagination of the good folk at Clown Skateboards and led to the collaboration we expand on below. Read on to find out more about Tygar's practise, the inspirations and philosophy behind it, translating his work into board graphics, and more…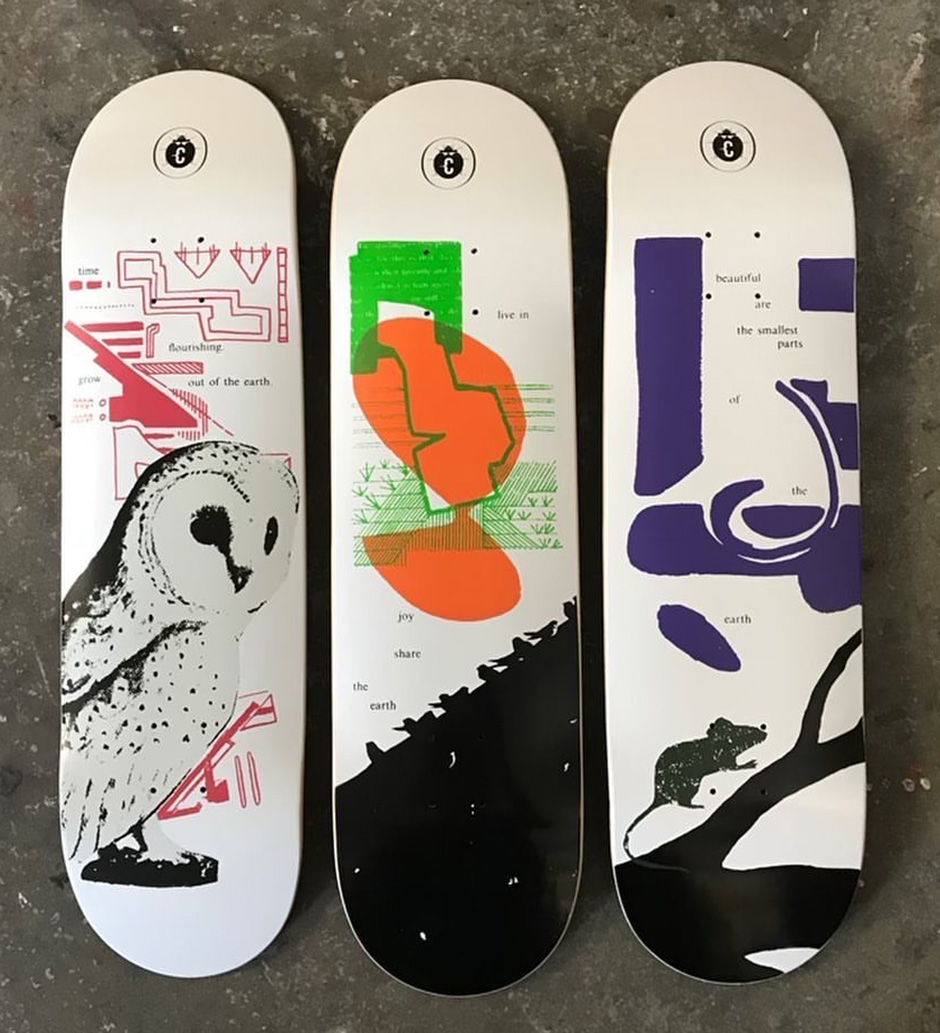 First of all congratulations on the Clown Skateboards release, we were stoked to see your work recontextualised. How was it reconstructing a ladybird book with that shape in mind?
It actually started without thinking about the skateboard deck and focusing on the original book, I did a whole book for them. Our first thought was to put the pages onto a board. We chose about 5 of the pages I did which we liked the most and looked at applying them. We started to realise that would look a bit naff, it wouldn't look so good if it was just a page on a skateboard deck. That would simply be placing a graphic on a board. It's so much better when a graphic works within the shape of the board, an actual board graphic instead of something simply placed elsewhere. We started mapping out the different abstract shapes and visual language which appeared within the book and had a common theme. We took our favourite aspects out and started to collage them together. That's how we came up with the three graphics.
The boards were made here?
They were all hand-printed and hand-screened in the UK. That makes it even more of a challenge because of the limitations of what you are actually able to put onto the board. How many colours you can do, what shapes, and text you can get away with, is limited. Each board had a maximum of three screens so we could only use three colours on each. It's nice working with limitations sometimes though, it creates a structure you have to work around and leads to a more interesting overall outcome.
So putting the graphics together was a collaborative process?
Very much so, my first thoughts were just to have a clean nose and tail and just a wheelbase placed graphic. But the more Jeff [Boardman] scaled them up and worked with them they didn't work so much in that way. Just putting the book on the board also seemed like too much of an easy process to go through. We thought we would combine parts from each page and put them all on. There is a lot of great imagery in the book so it seemed a shame to not include those other aspects. We took the owl from one page, the abstract orange figure of 8 shape is from another. Then we started pushing elements from each page together. Even the text is from other alternate pages, text that myself and Jeff felt was very positive and resonated in a nice way.
"I think simply putting graphics on a board appears to be easy but in retrospect the context of a skateboard deck is more complicated than it seems"
Work in progress. A window into the design process behind Tygar's board series for Clown
What is the significance of the earth theme in the text?
The original book was called Things to Look for in Autumn. It was a very positive book overall. The Clown project this was tied to is called Thank you very much / Fuck you very much. The pages in the book were all about the earth, and trying to be more aware of, and at one with nature. The book itself is about being connected so the imagery and the language is already in there. The book had a scientific angle too so we took the words and made them more elusive by creating messages like "live in joy, share the earth" by alternating the phrases. The earth theme just came about because it's about positivity and good vibes.
Clown are doing lots of good work with their Clown In Action projects too.
They are as well. Also with this collection all the boards are screened by hand and they have made sure all of the wood is from conservation forests, a push in a positive direction.
Had you previously ever considered your work in this context with a skateboard as the template?
Not necessarily, people have always mentioned it here and there because the overlap between skateboarding and art is so vast, and of course the most obvious connection between the two would be board graphics. But I think simply putting graphics on a board appears to be easy but in retrospect the context of a skateboard deck is more complicated than it seems. The process made me realise that the template of a skateboard deck is so different to a Ladybird book, or a stretched canvas. There is a lot more work to it, to make a good graphic there should be stronger narrative behind it, and a stronger process than just making something half-hearted.
Tygar's body of work on bookshelves. Just a few of the reconstructed books he has produced on display at the Thank You Very Much Ladybird show
In your interview for Clown with Jono Coote you really dissect your process with the Ladybird books and the inspiration behind it. How many reconstructions are there in your back catalogue now?
I think there are are 45 books now. I exhibited 43 at the show. There are some books I have made that are reconstructions but don't follow the rule that I started curating. They are still part of the overall structure but I didn't include them in the show. I wanted to show the books that followed a stronger suit and are more of a united collective. There are other miscellaneous books that you can view on my website. I'm working on one right now though so even though there's a number it's kind of infinite in a sense.
It's still a daily process, a page a day?
It is, here and there I might miss a day so I make sure to catch up and do two pages or maybe even more. If I've been down at the pub and get home pretty late I'm heading to bed, and the page can wait till the next day. Generally a page a day is the rule, It's a nice daily task. It keeps the creative mind exercised essentially.
This discipline is something you do in tandem with your course studying Fine Art at Central St Martins.
Yeah, although my degree show is in two weeks so the course is pretty much finished. But yeah, the two things go together but I've always had this belief and idea that my art practise and what I do comes first, and Uni comes second. I'm there studying for the sake of my own practise, to learn more and become more creative when it comes to what I want to do. One feeds the other but not necessarily vice versa.
"I'm there studying for the sake of my own practise, to learn more and become more creative when it comes to what I want to do"
But you get to explore different mediums on campus.
I started doing the Ladybird books before I started my BA, I started making them when I did my Foundation in 2018-2019. So when I started my degree I already had this side project in a sense, another thing, this daily task I constantly do. Then I had other ideas and practises which I kept in the studio, things for university. That's where all of the large scale paintings and abstracted painted drawings come into play. In my recent work for the third year I've started crossing the lines a bit more and turned some of the pages I really liked in my Ladybird books into large scale paintings. I've since realised the similarity between the books, the process, and the visual language that are explored between the paintings and the reconstructions. There are a lot of similarities that have always been there but I've never noticed until now, and stuff like that is great, the realisations, the light bulb moments, that occur through working.
So your daily routine has improved and informed everything else?
The relationship is quite symbiotic, they definitely feed off each other in a sense which is really nice. The best thing about it is that I know for a lot of people on my course, and in general, being creative isn't always easy. You can get your own version of writer's block. There's nothing wrong with that, that's just a part of the creative process but by me having this rule for myself, I'm constantly trying to make something and it involves accepting failure. Maybe I will get a page done and it isn't as good as other ones, it's about knowing that is okay and leaving it. Maybe the other pages will be really good. Within the total number that page is justified. There is a pleasure in the quantity and the significance of having so many pages. There are about 45 books and I average about 25 pages once a book has been reconstructed so there are over 1000 pages.
You must be grateful you set these parameters for yourself and that this process is enjoyable enough you have maintained it versus trying to find an angle and never landing on one.
It has taught me not to be too precious about things. The other rule I have I mentioned in the interview with Jono is "First thought, best thought" (A quote from the poet Allen Ginsberg). Being quick on your feet and getting it out of the way without deliberating too much. That spontaneity, and listening to instinct creates the best outcome. You can't be too worked up and strict with yourself, you need to be more free willing. It's about having fun and messing about. When I'm in the studio a lot of the time I'll play around with stuff, I've even skated in the studio. Whatever you do in the studio counts towards something, even if it's nothing. You can't be too precious about things, you have to make bad work, so you can make good work. One doesn't exist without the other.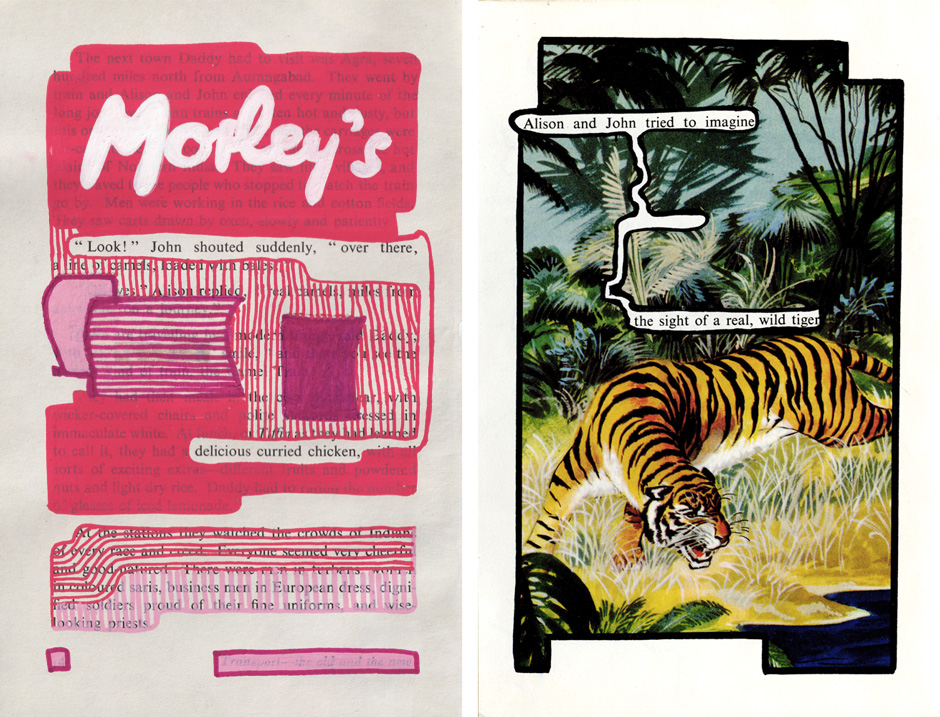 Two of Tygar's favourite pages from the many Ladybird books he has reconstructed
When I look at the evolution of your reconstructions chronologically it seems evident that you are progressively having more fun with the work.
Definitely, it varies a lot because I like giving myself rules within the rules. I remember doing a book during lockdown and I decided to use no imagery, just the text on each page. Then each page was somehow related to lockdown and everything we were going through. It's very much a book captured within that context and that time. Then for the following book I used the same one because I had two of the exact same copies. This time I only used imagery without any text, text manipulation, or redacting. It was all made up of collage and altering the visual imagery that was in the book. It was nice playing with that.
In the end, because it is a testament to time and context, there is always a gradual alteration and shift in the language and themes I explore within the pages. Right now I am using more and more collage, I'm doing a lot more minimal work, and becoming less meticulous. Seeing how simply I can make a page and have it still be just as affective. Another day I may sit down and feel like really taking some time and having some more fun with it. They are heavily contextual work because you are doing it every day, and no day is ever the same, days come with their ups and downs. Some days you are getting it done because you applied this rule to yourself.
"I like how there isn't a conclusion or endgame because it means the work itself is about the present, being mindful, and focusing on the now instead of putting pressure on the future"
Can you see this ever reaching a conclusion?
I think the conclusion is that there is no conclusion. It would be nice to collect the first 50 books together and work on some kind of publication, a physical archive for other people to read perhaps. It wouldn't be the same thing though, there is a lot to think about when choosing to make a type of work like that, you don't want to ruin the work by replicating or repurposing it, in a way. Also, the main inspiration comes from an artist called Tom Phillips and he had no end-game, he just kept going. He made all of these editions that you can buy which I do own most of. I like how there isn't a conclusion or endgame because it means the work itself is about the present, being mindful, and focusing on the now instead of putting pressure on the future. And that stuff is important, we'd all be a lot better if we tried to be more present and mindful.
Part of the display for the Thank You Very Much Ladybird show put on by Clown Skateboards at School of Skate
Tell us about the Thank You Very Much Ladybird show launch of this collection at the School of Skate venue.
It was insane, it was really good. It was such a great space to launch something like that which is so heavily tied to skateboarding. We were looking for venues and then Stu [Hopper] who runs School Of Skate popped up at the right time. There is a mezzanine gallery upstairs which was perfect. It really tied the two worlds of skateboarding and art together. On opening night it was great seeing this clash of cultures in a sense, cultures that overlap. Seeing friends from my course, and all of my skate friends interacting with each other was special. Everyone realising why they were there, and what interests they share. It's enjoyable doing events like that because they almost push people out of their comfort zones a bit, and they meet people they haven't before.
So you had four years of work on display, and there were boards, tees, and print packs available?
Yeah I did some print packs. I picked five of my favourite pages from the book I did for Clown and we made a print pack of those. We printed some T-Shirts which reference aspects from the decks and had the three boards available too. Four years worth of work was on display upstairs. It feels weird because all the books are significant but for so long they just sat on a shelf. Once I finish one, I move onto the next, so seeing them all displayed felt rather surreal.
There is a lot on display when you account for all of the pages in each book too of course. It was great seeing them lined up all together on a shelf, all neatly presented. It put things into some kind of perspective. Even for myself, looking at these old books I had forgotten about. It is a testament to time, a piece of each day captured essentially.
Do you have a book you are happiest with reconstructing as a whole?
That is a hard one, there are definitely a few which stick out in my mind. There is one called Alison and John which is a reconstruction of a book about India. It sticks in my head because the first image in the original book is of a tiger. I made a collage and found a sentence I really liked that says something like "Alison and John saw the image of a real life tiger". I traced out the text and cut it out of the image and overlapped the two. There are some great other pages in that book too like the "Morley's" page that still linger in my mind but that one page sticks out. That's one of the books I am still very fond of and always go back to.
Prior to this you had another solo show called Redacted.
That came together during my year out so it happened in March 2022. I have exhibited in some other group shows before but that was my first ever solo show. It was a surreal but very full-circle moment of seeing lots of my work all together doing what they are meant to do, and seeing everyone enjoy them. There's something about the narrative they all build together as an ensemble. It's the work I'm still doing now, and the work I want to continue exploring once I graduate. I felt confident in knowing I have a body of work that I wanted people to see.
"There is something striking about taking up space with a large painting, something phenomenal about seeing your work on a larger scale"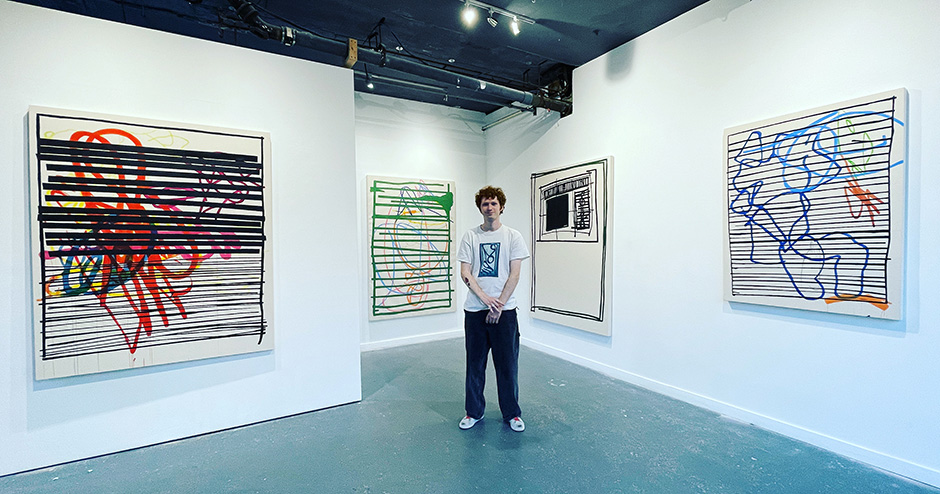 Tygar among some of his Larger scale paintings at his Redacted show for AMP gallery
Is it liberating creating paintings on a larger scale to the books?
When I'm not working on the Ladybird books I tend to work on a much larger scale. There is something about the macro and the micro. Ladybird books are slightly smaller than an A5 piece of paper so to then work on the larger scale is more fun. There is something striking about taking up space with a large painting, something phenomenal about seeing your work on a larger scale.
The last video project you worked on was Grove 2 is there something new in the works?
There has not been so much filming because of getting ready for my degree show out of the way. But there has been some talk of making Pecks 2. We haven't been skating street as much so it would be nice to hit the town and do that. From a sentimental point of view it would be nice to make Pecks 2. We filmed Pecks when I first started working at Slam in 2018 and it came out 4 years ago in 2019. It will be great to get everyone together again in the same video and see how much we've all grown up, and changed, but still skating the same crusty skate park which pretty much brought most of us up.
Are there any new Grove DIY developments of note?
There is a new ledge there built by the great Theo (Hughes) and they just finished another big build. There are a lot of projects going on, down in the garden, everyone is smashing it too. It's going to be a summer hot spot for sure. There's always something bubbling there, always new pours and new concrete being mixed.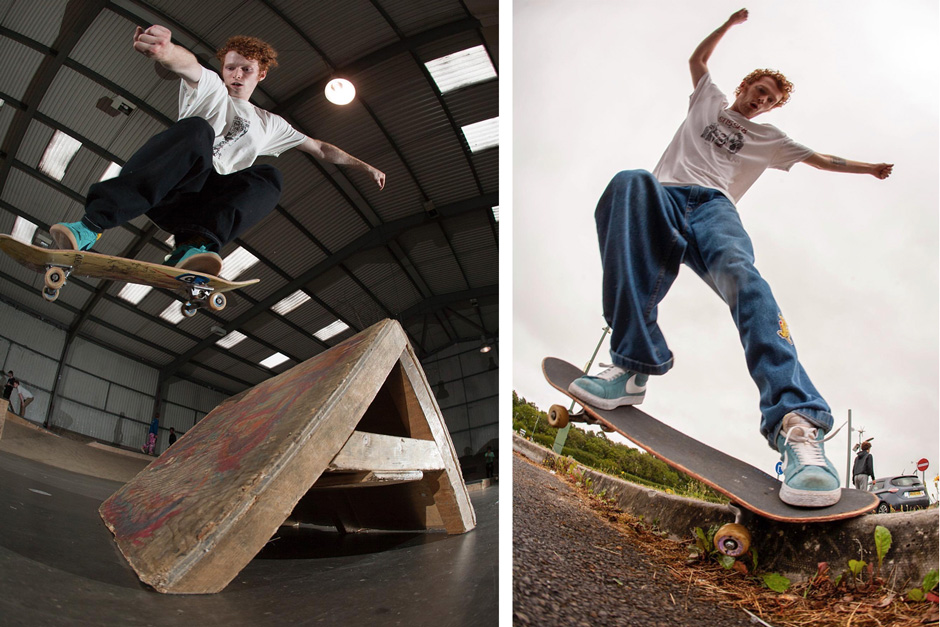 Tygar switch wallies at camp story in 2019 and slappy crooks in 2022. PH: Ash Wilson
Will you be volunteering at Camp Story this summer?
I'm planning to, I need to work out the dates but that would be sick. I'm always down there each summer. It's nice skating solidly for five days, catching up with Mark (Baines) who runs the camp along with other legends like Ash (Wilson) and Dale (Starkie), and helping kids who want to learn some tricks or are just super hyped to skate. Ive been every year since 2015 then in 2019 I think I went as staff cause I was old enough. Mark does a solid job though, it gets tiring trying to get a bunch of kids to sleep cause they are so hyped to skate the next day but it's real good fun, a nice break from the city.
"It's always quite a treat when a pigeon comes through the shop"
Can you give us a good memory from working at the Slam shop?
I've been working there for five years now, there are so many. It's always quite a treat when a pigeon comes through the shop. I remember working at the Covent Garden shop one time and this pigeon walked around the whole shop as if it were a customer, that was probably the highlight of the day. The pigeon just did a circuit and then walked out, a proper civil customer. I remember this other time when Guy (Jones) used to work there and this customer came in with a literal zigzag shaped deck with no nose and a tiny tail, he was adamant about getting it set up for his daughter and I tried telling him to just buy a regular deck because it would be so much easier for her to skate. He wasn't convinced. It's still the most odd set up I've ever done, I wonder if that kid still skates?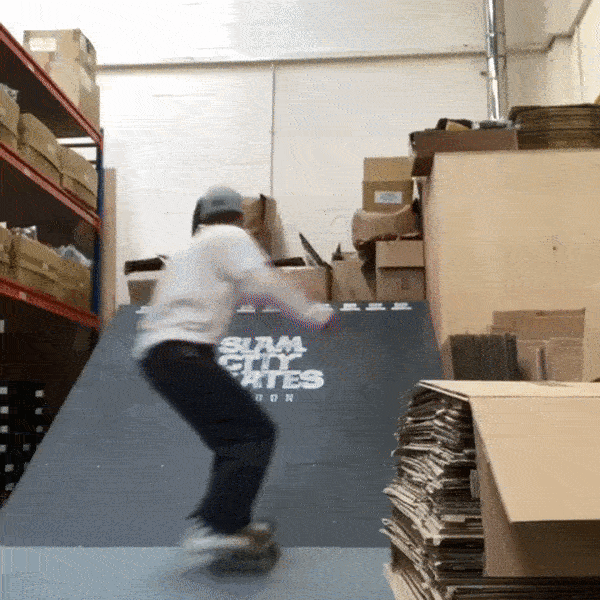 Some lunch breaks are better than others. Bank withdrawals at the slam warehouse
What does the future hold for you?
More of the same things that I have been doing. I want to find a studio somewhere after graduation, keep working on new paintings, some new ideas, and have more shows. I would love to work on more art projects connected to skateboarding with another company, another board series maybe. Working with Clown has been a really good experience. I just want to keep going. Slam is looking really exciting right now and I'm staying on board. I'm looking forward to working more shifts after graduation and getting involved with future projects.
Last words?
Thank you dad for giving me skateboarding, and thank you mum for making me creative. Love you guys xxx
---
Shop for Clown Skateboards x Tygar Miles Smith x Thank You Very Much Ladybird
Thanks to Tygar Miles Smith for his time. Follow Tygar on Instagram. Visit tygarmilessmith.com and read his Thank You Very Much Ladybird interview.
If you are interested in visiting Tygar's show the installation is up until the 10th July 2023 and is open to the public on the following hours:
Thursdays – 3pm – 7pm
Fridays – 3pm – 7pm
Sat – 11am – 6 pm
Sun – 11am – 6pm
The address is:
The Clown Mezzanine
School Of Skate
2C Copeland Park
Peckham
SE15 3 SN