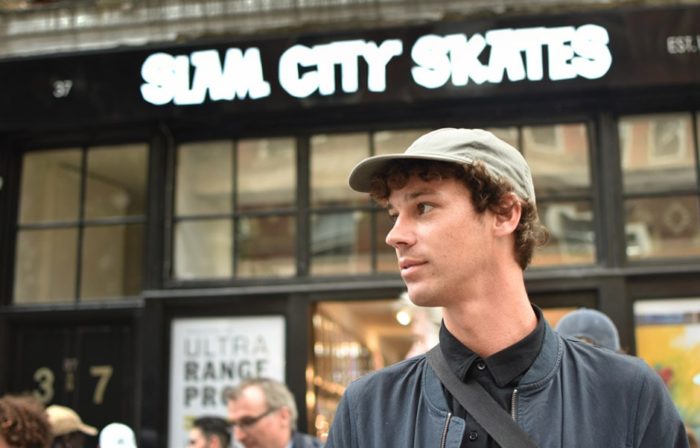 Our hearts are heavy with the news of Ben Raemers' passing. It's something we are all trying to make sense of, something which makes no sense. Ben was an amazing human being with a unique way about him. He could meet you for the first time and you got Ben, unreserved and unfiltered. He gave you a hundred percent and lived his life that way, lighting up every room he walked into. We are lucky to have been one of those rooms. Ben was a regular visitor and his place on the Slam team evolved naturally…

Ben was loved by everyone who knew him and news of his tragic death was a shock of lightning to the core of our community. As always the skateboarding family responded with love. Jack Brooks created a Go Fund Me for a memorial bench at his favourite spot in Victoria Park. This gathered pace and has become a fund for his family so please give generously.
Heartbreakingly Ben chose to leave us which makes his passing even harder to accept. It is also a call to action to all of us. We are all skateboarders, we are all family bonded by a universal love. If you are having any troubles and feel like you can't talk to anyone reach out. Come to the shop, talk to us, talk to a friend but talk, it's all we have. We have to be there for each other and if someone needs to be heard, lean in. It could also be a good idea to reach out to someone like Calm and Mind are also a helpful resource. Cruse offer bereavement care for anyone who needs to talk.
I'm typing this from the same spot where I had the pleasure of interviewing Ben a couple of years ago. When he recalled his first skateboard, a Goosebumps complete with a mummy on it, his whole face started beaming. That childlike sense of wonder, that pure joy was always there bubbling beneath the surface and that's how I will always think of him. Our love and thoughts go out to all of you hurting. We all love you Ben and we all miss you. Your memory rolls forever.